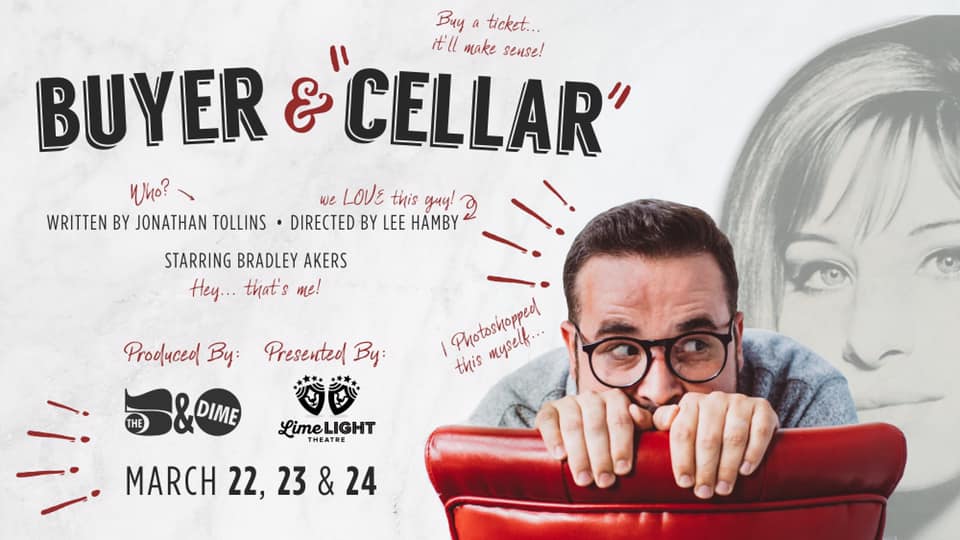 The 5 & Dime is taking its outstanding production of Buyer & Cellar on the road again. The show, recently presented and enthusiastically received at All Beaches Experimental Theatre (ABET), is coming to the Limelight Theatre in St. Augustine for encore performances March 22-24. Don't miss seeing this gem of a show.
Written by Jonathan Tolins, Buyer & Cellar is a one-man, one-act show inspired by Barbra Streisand's My Passion for Design. The play is set in her famous shopping mall basement and revolves around the character of Alex, an out-of-work Los Angeles actor who takes on an odd job and develops an unlikely friendship with Streisand.
Under the direction of The 5 & Dime's Managing Director Lee Hamby, the production stars Bradley Akers, who shines in this outrageously funny show. While the play is fictional, Streisand's book is real and the story references events and relationships that are true.
Akers delivers an impressive performance at Alex and the others he encounters during the show. He is captivating as he transforms seamlessly from character to character without missing a beat. The humor and energy make this 90ish-minute show fly by.
Hamby's set design is clever and radiates with Streisand's persona. The production team also includes Katie Cress as stage manager and lighting designer, Mike Yarick as projection designer, Cameron Sparks as projection operator and costume design by Hamby and Akers.
Performances of Buyer & Cellar at the Limelight Theatre are offered March 22-24. Curtain is at 7:30 p.m. Friday and Saturday, and 2 p.m. Sunday.
Tickets are $20 and available at https://limelight-theatre.org. The Limelight Theatre is located at 11 Old Mission Ave. in St. Augustine.