Dashing Through the Snow is this year's holiday show at All Beaches Experimental Theatre. The play is in production through Dec. 16, and brings smiles and laughs to audience members of all ages.
The play is by the writing trio of Jessie Jones, Nicholas Hope and Jamie Wooten, who have also crafted other popular works such as The Dixie Swim Club. Dashing Through the Snow is a collection of four short plays and is set at the Snowflake Inn in the tiny town of Tinsel, Texas.
The action takes place over the four days leading to Christmas. Throughout the play, the innkeeper is dealing with a colorful collection of nuttier-than-a-fruitcake guests and a challenging employee, and the end result is over-the-top comedy with some heart-warming messages that capture the spirit of the holidays.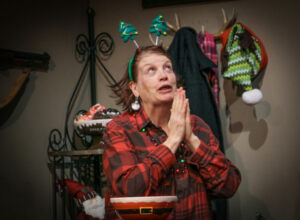 ABET's production is expertly directed by Gloria Ware and features a talented ensemble cast who portray some witty and wonderful characters. The frazzled innkeeper, Trina, is convincingly played by Laurel Wilson, who appears in all scenes. There are two characters, a demanding guest, Mr. Boykin, played by Ron Veasey, and a tipsy cook, played by Susan Roche, that give memorable performances even though they are not seen on stage.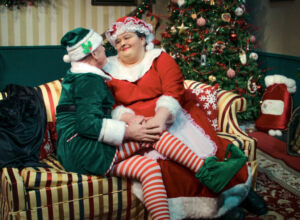 The first scene involves an elf and Mrs. Santa, skillfully portrayed by Allen Morton and Chelsea Black. The second act involves a brother and sister, smartly played by Joseph Stearman and Lauren Appleton, who are trying to reconcile their two cantankerous aunts, believably played by Black and Claire Cimino.
Following intermission, Stearman, Tillotson and Roche return for a scene about a traveling theater company making a stop in Tinsel. Stearman and Tillotson are the "stars" and Roche is the demanding stage manager, and all deliver delightfully wacky performances.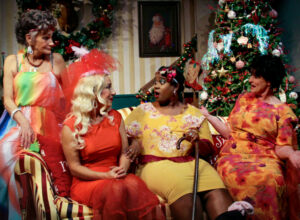 The final scene involves preparations for a last minute Christmas Eve wedding. Tillotson returns as bride-to-be Honey Raye Futrelle and is joined by Ellen Hare (Twink Futrelle Bunter), Jeanie Lijoi (Frankie Futrelle Dubberly), Rhodie Jackson (Rhonda Lynn Lampley) and Michael Ray (Raynerd Chisum). It's a wild ride to the finish line with memorable performances from all.
In addition to directing, Ware designed the set, which is exquisitely decorated by Morton. Ware also designed the festive and colorful costumes along with Tillotson. The production team also includes notable light and sound design by Bryan Frank. Andrew McCraney is the light and sound operator. Justin Brown is the stage manager.
Performances continue Dec. 7, 8, 9, 14, 15 and 16, but half of the remaining performances are sold out. Tickets are still available for Saturday, Dec. 8, Friday, Dec. 14, and Saturday, Dec. 15. Curtain is at 8 p.m. Friday and Saturday, and 2 p.m. on Sunday. Tickets online are $24 adults, $12 under 18 and at the door $24 adults, $15 under 18.
For tickets, visit http://www.abettheatre.com or call (904) 249-7177. ABET is located at 544 Atlantic Blvd. in Neptune Beach.
Photography by Caryl Butterley