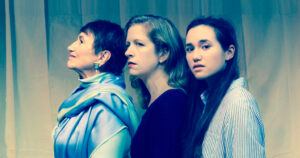 From left, Holly Gutshall, Karen Konzen and Brynne Tolentino
Up next at the All Beaches Experimental Theatre is Eleemosynary. The drama opens March 15, and is in production through March 31.
Eleemosynary is a play written by Lee Blessing. The story follows the complicated relationships of three generations of highly intelligent women in the Westbrook family. A spelling bee is part of the story, and eleemosynary means charitable or relating to or dependent of charity. ABET's production is directed by Christopher P. Farrell.
"The script is close to my heart," said Farrell. "Eleemosynary speaks to those acts of love that strengthen the relationships with those around us. We need one another to feed that hunger deep inside, and love is hard work and requires constant attention."
The eldest character is Dorothea, a mature woman who has chosen to be eccentric. After three decades performing in Northeast Florida's theater community, Holly Gutshall is making her ABET debut as Dorothea.
"Eleemosynary is a wonderful script about women, especially mother/daughter relationships, women's aspirations and empowerment," Gutshall said. "Part of the delight of working on this show is the script and its language, and working in a show with just three characters. As an actor, you get to develop a lot of trust with the other actors."
Dorothea's grown daughter is Artemis, who works as a biochemist and possesses a remarkable memory. Karen Konzen, who also has a science background, plays the role of Artie.
"The story speaks to the dynamic of a lot of women and families," Konzen said. "In this show, the language is raw in a very real way. It makes the story more poignant and emotional."
Brynne Tolentino, a sophomore at Douglas Anderson School of the Arts, is making her ABET debut as Echo. Her character's love of words plays a significant role in the story.
"I've learned a lot of new words for this role," said Tolentino, who plays Artie's daughter and Dorothea's granddaughter. "The dynamic between these characters is so complex."
Performances are offered March 15, 16, 22, 23, 24, 29, 30, and 31. Curtain is 8 p.m. Friday and Saturday, and 2 p.m. on Sunday. Tickets $24. For reservations, go to http://www.abettheatre.com or call (904) 249-7177. ABET is located at 544 Atlantic Blvd. in Neptune Beach.
Photo by Caryl Butterley