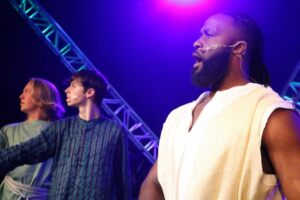 Joseph and the Amazing Technicolor Dreamcoat is in production at Players the Sea through Dec. 23. The popular musical by Andrew Lloyd Webber and Tim Rice is a delight and the perfect holiday outing for the entire family.
The story is based on the Coat of Many Colors story in the Bible's Book of Genesis. Joseph, one of Jacob's 12 sons, is a dreamer and has started to discover how to interpret the meaning of this dreams. His brothers are jealous of Joseph's abilities, his multicolored coat and Jacob's love for him. They form a plot, selling Joseph and telling their father he has died. Joseph endures many challenges on his journey, but his gift eventually saves him.
Players' production is expertly directed by Kris Jackson, with assistant direction by Clayton Riddley. They have assembled and managed a 35-member cast that delivers dazzling performances. The show is entertaining and full of fun and humor, yet allows the messages of faith, hope and forgiveness to shine.
In the title role, Anthony Mincey is spectacular and embodies Joseph's charisma and appeal. Lexi Inks is commanding as the narrator. Both deliver standout vocal performances in their roles. Other noteworthy performances include Milton Threadcraft as Jacob, Kimberly Cooper York as Mrs. Potiphar and David Median as Potiphar. Lucas Kish gives a memorable performance as the Elvis-inspired Pharaoh.
The musical direction by Anthony Felton presents the perfect accompaniment. The band features Erin Barnes on piano, Sean Tillis on bass, David Ott on guitar, Alex Hernandez on woodwinds, Paris Sullivan on horns and Ramon Lopez on percussion.
The choreography by Sherrod Brown takes the audience on journey with stylish high energy dance moves. The costumes by designer Pam Joiner and assistant Hope Adkins add authentic style and color. Daniel Dungan's lighting design and Nate Cimmino's sound design complements the show. Jereme Raickett serves as production manager and scenic designer, and Gayle Featheringill serves as stage manager of this fast-paced, massive production.
The cast also includes Kenggy Bravo, JuQuan Vickers, Phillip Williams, David Medina, Matt Miller, Andrew Sardoni, Luke Gilboy, Abbey Smith, Jack Niemczyk and Matthew Medina.
Ensemble: Kimberly DeTorres, Karen Coughlin, Jennifer Medina, Ashley Harper, Cameron Thomas, Kenggy Bravo, Deena Davis, Samantha Jenkins, Amari Dyson, Mallorie Sievert, Kimberly Cooper York and Assata Davis.
Children Chorus: Tess Miller, Ashlyn Henderson, Mikayla Titus, Landon McClellan, Jude Kennedy, Addison Slater, Yulisa DeTorres, and Mahalia Dartiguenave.
Performances continue Dec. 13, 14, 15, 16, 17, 20, 21, 22, and 23. Curtain is at 8 p.m. Wednesday through Saturday. There will be a 2 p.m. matinee performance on Saturday, Dec. 16, and Saturday, Dec. 23.
General admission tickets are $28, $25 for seniors, students and military. Thursday is Student Night, offering half-price admission with a valid student I.D. For information and tickets, call (904) 249-0289 or log onto http://www.playersbythesea.org.