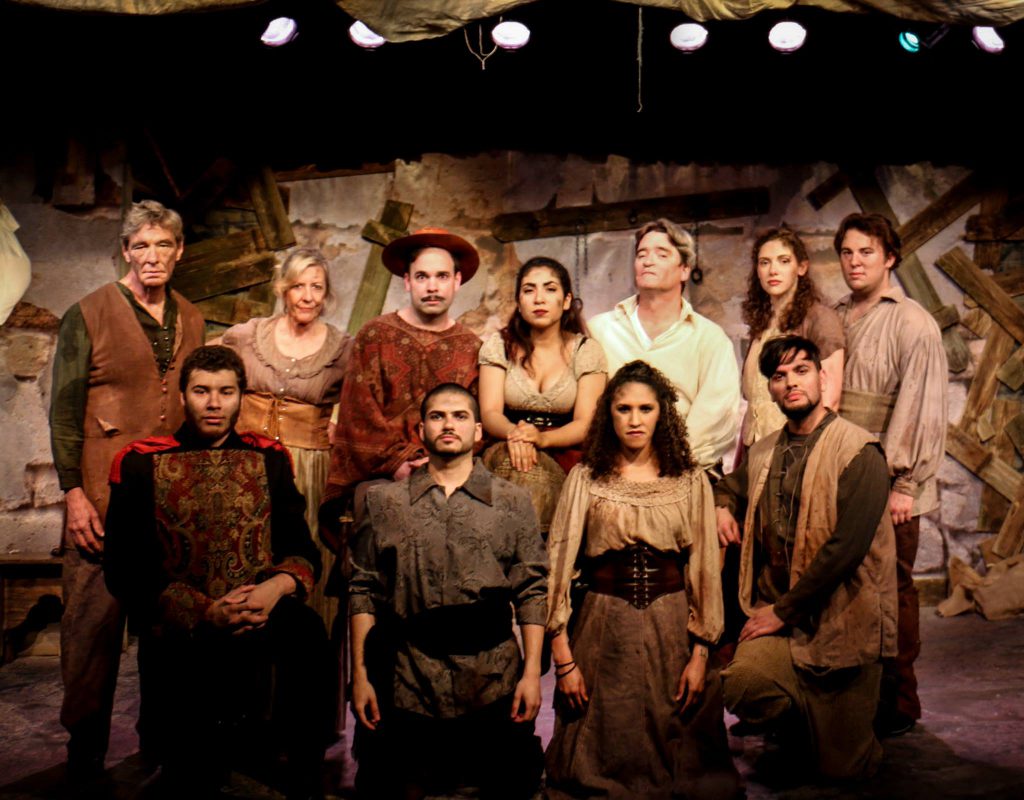 One of the most enduring works and great theater successes, Man of La Mancha, is in production at the Atlantic Beach Experimental Theatre until March 25. ABET's production of the award-winning musical is marvelous and shouldn't be missed.
Written by Dale Wasserman with music by Mitch Leigh and lyrics by Joe Darion, Man of La Mancha is presented as a play-within-a-play. Inspired by the novel Don Quixote, author Miguel de Cervantes is in prison, awaiting trial by the Inquisition. When his fellow prisoners try to take Cervantes' belongings from him, including his manuscript, Cervantes proposes a trial in which he proves the merit of the manuscript through a reenactment, enlisting his fellow prisoners as characters in his play.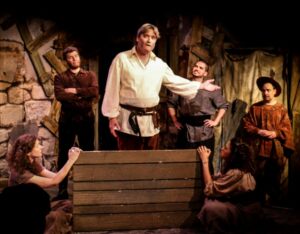 Together, they tell the story of the aged Alonso Quijana, who believes himself to be a knight errant, names himself Don Quixote and pursues an obsessive quest to attain an impossible dream. Through the story, all the prisoners – at least for a moment – are transformed. Man of La Mancha celebrates the perseverance of a man who refuses to relinquish his ideals or his passion. The celebrated score includes the song, The Impossible Dream.
Man of La Mancha isn't performed often because it is a very challenging show technically, musically and dramatically. Each character struggles between two different realities. ABET's production is brilliantly directed by the talented Lee Hamby with musical direction by Erin Barnes. The cast is superb and together, with a terrific creative team, they deliver a beautifully crafted and moving production.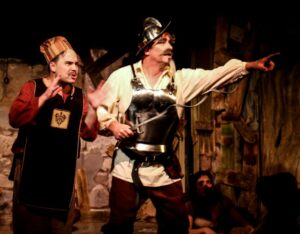 Leading the cast in the dual role of Cervantes and Don Quixote is Bill Ratliff. His inspiring performance embodies strength and determination yet reveals his characters' sensitivity and vulnerability. Gary Baker is delightful and endearing as Sancho Panza, the funny and loyal sidekick. In addition to revealing a beautiful singing voice, Isabella Martinez gives a commanding performance as Aldonza/Dulcinea. The voices in this show are wonderful. Talent runs deep in this excellent cast which features Bill White, Jonathan Leonard, Bryce Cofield, David Medina, Kerry Burke McCloud, Kimberly Barry, Carole Banks and Lauren Cook.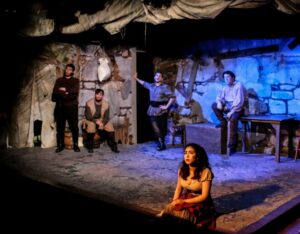 The set design is spectacular and rich with detail. Kudos to Bryce Cofield and Lee Hamby for the set design and the construction efforts of Lloyd Jones, Janelle Jones, Meganne Johnson, Brian Johnson, Gordon Frank, and Bryan Frank. Amy Hancock's costume design is striking, while Bryan Frank's effective lighting design and Gordon Frank's sound design complements the show.
The band is terrific. In addition to Barnes, it features Greg Balut on brass, Alexander Hernandez on woodwinds, Lee Wolf on bass and Tony Fidyk on percussion.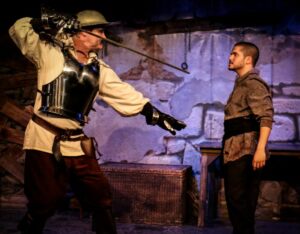 Lauren Cook's choreography and Bryce Colfield's fight choreography add excitement to the show. Production team credits also include Janelle Jones as the stage manager and light/sound operator and Lloyd Jones as a backstage crew member.
Tickets for remaining shows are going quickly. Performances continue March 16, 17, 18, 23, 24, and 25. Curtain is at 8 p.m. on Friday and Saturday, and 2 p.m. on Sunday. All tickets are $20.
For tickets, visit https://abet-s26p05.eventbrite.com.
ABET is located at 716 Ocean Blvd. in Atlantic Beach. For more information, visit http://www.ABETtheatre.com.
Photography by Susan Roche