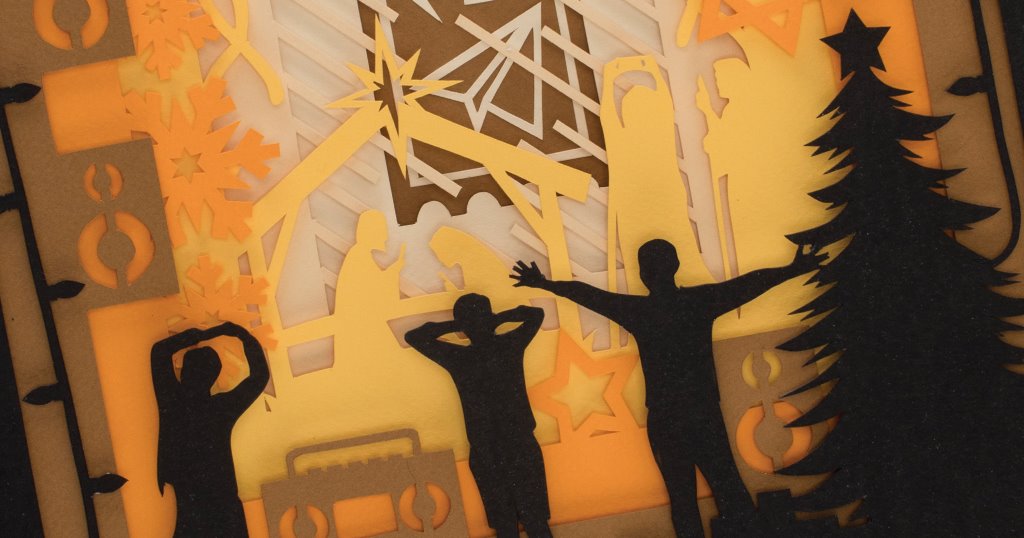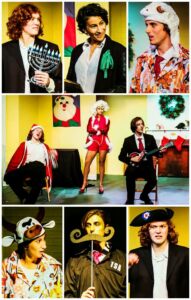 The Ultimate Christmas Show (Abridged) is in production at the Atlantic Beach Experimental Theatre through Dec. 23. This show, one of the funniest ever staged by ABET, is a celebration of joy and laughter.
Written by Reed Martin and Austin Tichenor, The Ultimate Christmas Show (abridged) is an irreverent yet heartwarming trip through the holidays. The show's program within a program features the schedule of acts to perform at the Annual Multicultural Interfaith Holiday Variety Show and Christmas Pageant at St. Everybody's Non-Denominational Universalist Church. Three church members welcome the audience. But there's a problem. None of the acts scheduled to perform have arrived because of a severe storm. The show must go on so the three church members perform the entire Variety Show and Christmas Pageant by themselves.
Under the outstanding direction of Jason Collins, ABET's production is festive, laugh out loud funny and full of physical comedy madness. The cast, comprised of Austin Kelley, Stephanie Santiago and Kyle Reeves, live up to their billing as "Three Wise Guys." Their high energy antics and comic timing are spot on. The show features plenty of audience interaction and the cast members demonstrate marvelous improvisational skills.
The set, featuring the work of scenic artist Jean Lijoi, is dressed for the holidays and complemented by Bryan Frank's lighting design. With three people performing an entire variety show, there are numerous costume changes. Amy Tillotson contributes her expert costume design with kudos to stage manager Stephanie Drog for managing the show's madcap flow. The production team also includes light and sound tech Gordon Frank and light and sound operator Betsy Totten Darnell.
Audience members are invited to take part in a White Elephant Gift Exchange. The gift exchange takes place during intermission and is a show of its own! To participate, bring an inexpensive ($5 to $10) funny, weird, or unusual wrapped gift to the show. Participants have the opportunity to choose a gift, or steal one from someone else! Happy Merry Chrismakwanukkahanzukkah!
If you're looking for some holiday cheer, don't miss The Ultimate Christmas Show (Abridged). Performances are offered Dec. 15, 16, 17, 22, and 23. Curtain is 8 p.m. Friday and Saturday, and 2 p.m. on Sunday. Tickets are $20, $10 for children under 18 and when accompanied by an adult. For reservations, visit http://www.abettheatre.com or call (904) 249-7177.
The Atlantic Beach Experimental Theatre is located at 716 Ocean Blvd. in Atlantic Beach.