Just in time for Halloween, All Beaches Experimental Theatre is presenting the thriller, Wait Until Dark, opening Oct. 26, and in production through Nov. 11.
Written by Frederick Knott, this masterfully constructed play moves from one moment of suspense to another as it builds toward an electrifying, breath-stopping final scene. The play was first performed on Broadway in 1966. A film version was released in 1967.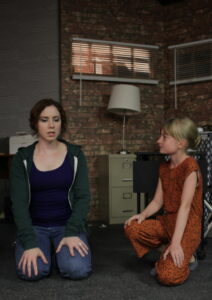 Left to right, Jenna Bourne and Tatum Matthews
ABET's production is directed by Franklin Ritch. The cast features Jenna Bourne, Milan Alley, David Girard, Juan Ocharan, Tatum Matthews, and Kyle Reeves.
Performances are Oct. 26, 27, Nov. 2, 3, 4, 9, 10, 11. Curtain is at 8 p.m. on Friday and Saturday, and 2 p.m. on Sunday.
Tickets are $24 adults, $12 under 18 online; $25 adults, $15 under 18 at the door. The house opens 30 minutes before curtain.
ABET is located at 544 Atlantic Blvd., Neptune Beach. Call (904) 249-7177 or visit http://www.abettheatre.com.