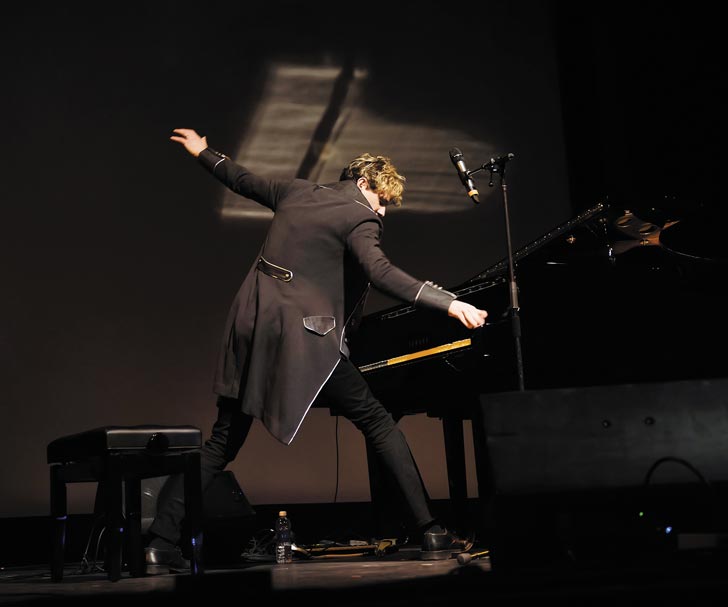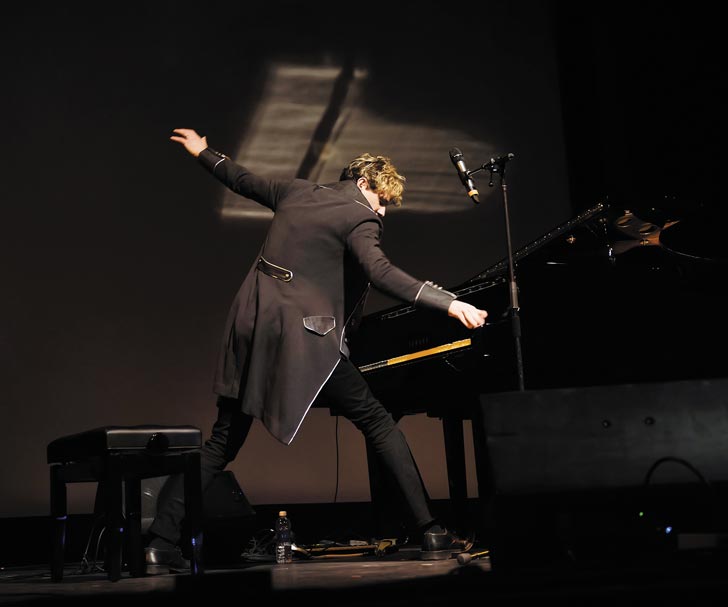 Take Jerry Lee Lewis, add some Victor Borge, Beethoven on steroids, garnish with Schroeder from Peanuts, throw it all in a blender, and what comes out is an unmistakable Jason Farnham show! Piano Antics with Jason Farnham is making its way to Northeast Florida with a stop at Thrasher-Horne Center for three performances on January 19th & 20th, 2018. Fans of Jason love his toy piano, his witty comedy antics, and the clever way he interacts with the audience. Called the "chameleon artist" because of his ability to perform in many different genres, his gigs have ranged from tickling the baby grand at Deepak Chopra's retreat in San Diego to synthesizing beats in some of Sunset Strip's hottest dance clubs. His musical variety includes contemporary romantic piano, jazz, bossa nova, blues, stride piano, and classical with a modern twist!
Playing the piano while lying upside down Amadeus-style? Why not? Jason is always looking for an interesting spin on the status quo, a way to take a classic and turn it on its ear. The newest addition to his piano show is Fur Elise with a techno-rock-dance beat, aptly named "Fur Crying Out Loud Elise, Let's Dance!" Mozart's Rondo Alla Turca has also become "Rondo Alla Techno" under Jason's nimble fingers. He's also re-envisioned "Autumn Leaves" into a fusion of bossa nova and samba styles.
Born an only child to Camille and Richard Farnham in New York City, his military upbringing saw his family relocating several times to Hawaii, Texas, Florida, Idaho, and California, before finally settling in Canton, Ohio, in 1985. Jason began playing the piano at the age of four, and writing his own music while attending Ohio University. He currently performs his piano show in various theaters and concert halls throughout the United States, often accompanying formal concerts with a corresponding educational outreach performance (as is the case with a dedicated schooltime performance at Thrasher-Horne).
Outside of live theatrical performances, Jason is a diverse composer and songwriter, with music featured in film, television, and commercials for clients as varied as Nickelodeon, BMW, and Oprah Winfrey's company Harpo Productions. He is responsible for producing music for several seasons of the "Dr. Oz Show", including penning its iconic opening theme. Two of Jason's tracks were also selected and used for Oprah's recent "No Phone Zone" campaign.
Prime seats for Piano Antics with Jason Farnham are still available through the Thrasher-Horne Center Box Office, with prices as low as $29. You can reserve your tickets today at THcenter.org, or by calling (904) 276-6815.