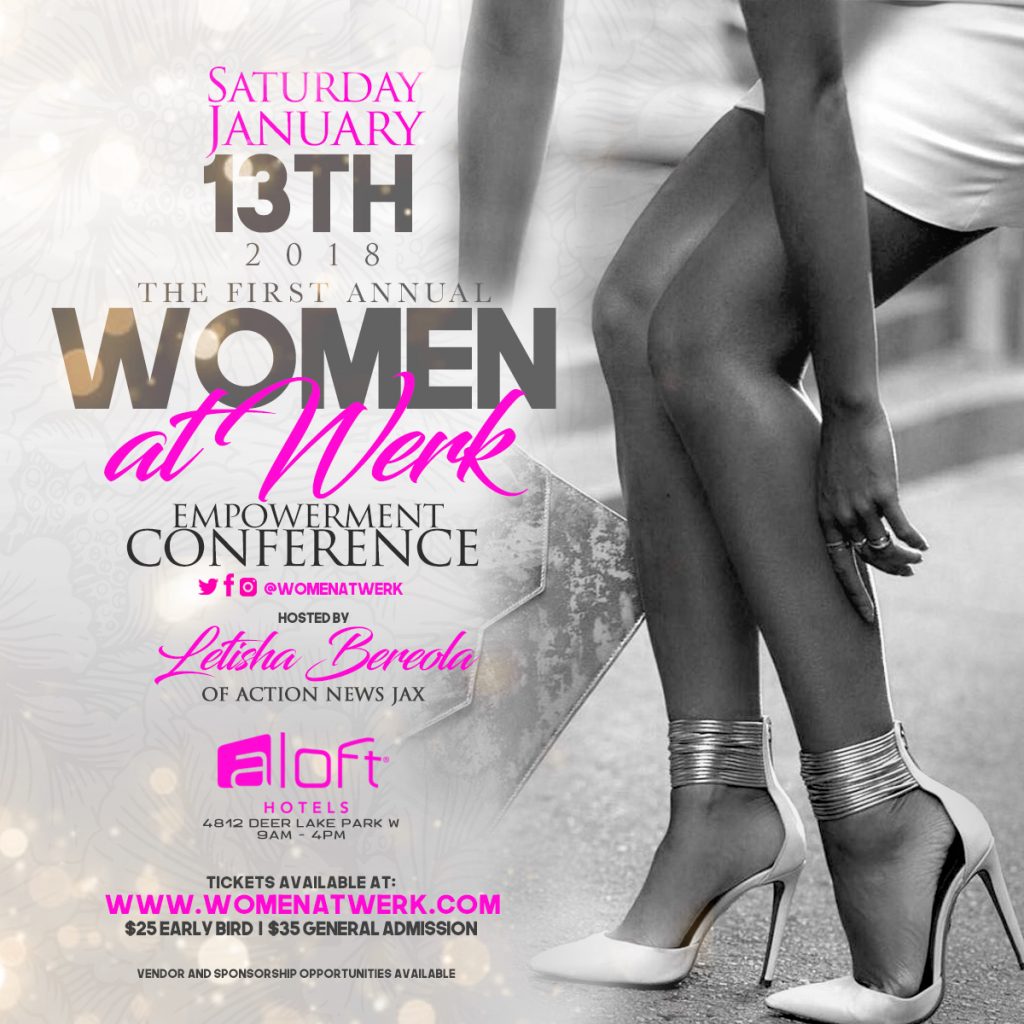 Women are sexy, majestic, strong, and beautiful. What better way to celebrate being a successful, powerful women than to get together with other successful and powerful women?
The Women at Werk Empowerment Conference, created by Stephanie Jones, will uplift you, teach you, and connect you with women who are just that!
Women at Werk started as a social experiment and passion project.
"I started with getting some girls together to do dinner and drinks." said Jones. "It was a time for us to get dolled up, wine, dine, laugh, and just commune together. We called it 'First Love Yourself." 
Jones approached good friend, Letisha Bereola, to host and there was no hesitation in saying yes!" Her best friend and event planner Sarath McClennon was equally excited to support her passion.
"I'm mostly looking forward to the tears." said Jones. "Each speaker is going to be interactive and personable and really speak to the audience as if they're saying 'Atta girl' or 'I've been there'."
Other speakers will include women who have gone from truck driving to makeup artists. There will be a live female DJ, sex therapists, finance powerhouses and even crossfit gurus. Jones expects about 150 women in attendance and for the experience to not only fill women with resources but also give them access to connections of other women willing to support them.
"I don't want to see women tear down their sisters anymore. If women allow themselves to release the competition, motivate and uplift each other we can all WIN! I want women to take away from the conference that anything is possible with the right amount of dedication and support from your tribe. Any woman you see or come into contact with has a story. She's had trials and tribulations to overcome. I want us to use each other's experiences to fuel our purpose and RUN THE WORLD!"
Sign up now, for the Women at Werk Empowerment Conference and don't miss out on an amazing oppertunity to WERK IT January 13 from 9AM-4PM at the Aloft Hotel in Tapestry Park.
If you miss the Empowerment Conference please feel free to join us for the First Love Yourself (F.L.Y.) Happy Hour in partnership with
The Talented Tenth
 from
6pm-9pm
of the Aloft WXYZ Bar.