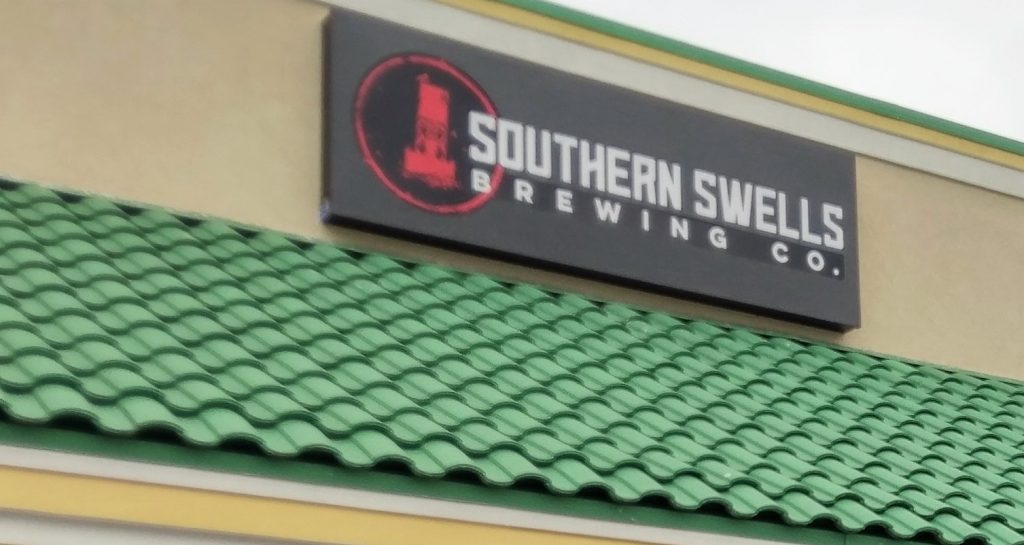 Southern Swells Brewing, Jacksonville Beach, celebrates its First Anniversary on Saturday, January 27 at noon, with six new beers in can and bottle releases brewed especially for the occasion. While they brew a variety of different beer styles, co-founders Corey Adams and Jay Varney have stormed onto the Jax craft beer landscape with their hazy New England-style beers and unusual beer names.
Word of the new brewery surfaced via social media in April 2016, taking the local area by surprise. The following January, the brewery opened with guest taps while the house beers were still in the works. Almost a year to the day of the initial brewery announcement, eight house beers made their way onto the taps. "We were just hoping to put out a few good beers to start," said Corey in an interview. "It's been incredible that it's been a year."
At any given time, visitors to the tap room will find a variety of different house beers on tap, including a mainstay Vienna Cream Ale, stouts, porters, cold-brewed coffee beers, pale ales, Berliner Weisses, sour beers, wheat beers. However, Southern Swells may best be known for acquiring a reputation for the hazy, tropical, fruity "New England" style IPAs and pale ales that seem to be soaring in popularity. As Corey explained, they view the style as "approachable" with "room for experimentation." Being from New England, they saw a "tremendous opportunity" to brew a style not heavily brewed here in Florida. Added Jay, there's quite a bit of experimentation with hops and ingredients.
When the doors open for the First Anniversary on Saturday at noon, six new releases will be available in cans or bottles, and two will be on draft. Interval draft tappings take place over the course of the day. The new releases are: Anniversary IPA with Galaxy and Nelson hops; Heck Yeah That's Sour Berliner Weisse with Blackberry, Vanilla and Lactose; and Fashion Show Double IPA with Vic Secret hops (available in cans); Bourbon Barrel-Aged Northern Roots Imperial Stout, along with two variants: Coffee; and Fire, with habaneros, cacao nibs, vanilla and cinnamon (bottles).
While there might be a funny story or inside joke with some of the beer names, the "Heck Yeah" Berliner Weisse may hold a special meaning. That beer was brewed by the ladies of Southern Swells: bartenders Hannah and Erica, and wives Camille and Kate; and the first letters spell HECK, as in Yeah! The ladies handled the brew day for the beer, said Jay.
Southern Swells plans to increase can releases over the upcoming year. While several of the beers are available on draft through distribution around the local area, for now, the cans are sold in the tap room. With the learning curve of Year One behind them, look for Southern Swells to pour their beer at several beerfests, including local events Riverside Craft Beer Fest, presented by Rotary Riverside at Riverside Arts Market on February 24, and Shrimp and Suds Craft Beer Fest, hosted by the Jacksonville Jumbo Shrimp, at the Baseball Grounds on March 24. In addition, guests will now be able to enjoy Southern Swells beers in the tap room an hour earlier during the week, when the it opens at 3pm Monday-Thursday.
For more, take a look at my onsite interview with Corey and Jay (recorded Tuesday, January 23), where we talk about the past year, the anniversary beers, the New England-style beers, some hits-and-misses, and more.
Congratulations to Southern Swells! Southern Swells Brewing Co. is located at 1312 Beach Blvd. in the Beach Plaza shopping center. The tap room is open seven days a week.
Cheers!
Linda Johnson, Certified Cicerone®
Covering Florida's beer scene, and locally around the Jax Metro area
Linda Johnson is a BUZZ Contributing Writer (beer!) and founder of the beer and travel website, BrewNymph.com, covering all things Florida beer from news to events. She is the first female Level 2 Certified Cicerone® in the Jax area, one of seven in the metro area, and the only Level 2-certified independent beer writer in the state.