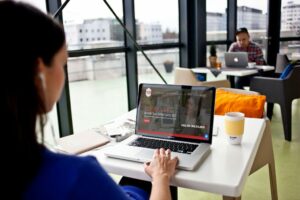 Why do you think veteran's make outstanding entrepreneurs? How do you transition from the service to the world of business?
I think there is a drive in us, something that is created through our service. The military takes us in and gives us an opportunity to see how far we can push ourselves. This is a bit easier because we are "voluntold" to do it, there is no backing out or quitting when times get tough. So when we get out of the military and we run into these challenges, we don't quit. We drive forward, we know that the reward on the other side of that challenge is worth the struggle.
What inspired you to start a business? 
I saw a need in my industry, plain and simple. Business owners need the services I provide and I wanted to offer an option where they know that they are part of a team. I am dedicated to the success of each of my clients, I believe that their success is OURS. Businesses who operate on the idea that they need to squeeze every cent out of a client that they can are holding their clients back. At the end of the day I love having the freedom to create a new culture in my space and finding ways that I can give back in the process.
Who or what has influenced you most in your career?
My grandfather has inspired me the most, he taught me the value of hard work and always being there for the people who need you. My wife has also been a huge inspiration, her unwavering support in everything that has been built has been a massive part of what 12B has become. I also lost my best friend, a fellow veteran, in 2009. Although his loss was hard, it showed me how bad things can get if we allow all of the bad things we are going through to stack up. We need to have a solid team around us and we need to use that team. Life will be hard sometimes but we need to be open to the idea that we can't do it alone. I bring that into my business in a big way!
About 12B Capital
12B Capital has a client first mentality and believes in forming long-term business relationships built on trust. We want to provide you with an experience that will keep you with us as long as you're in business! We offer a range of solutions for businesses, all designed to help your company reach its potential. Whether you're looking for working capital or just a way to accept payment, we have you covered. We work closely with each business owner to ensure they are provided with exactly what they need both quickly and at a reasonable cost.