The musical comedy A Funny Thing Happened on the Way to the Forum is in production at Players by the Sea thorough Feb. 15. The high energy and entertaining show is a must see for theater lovers.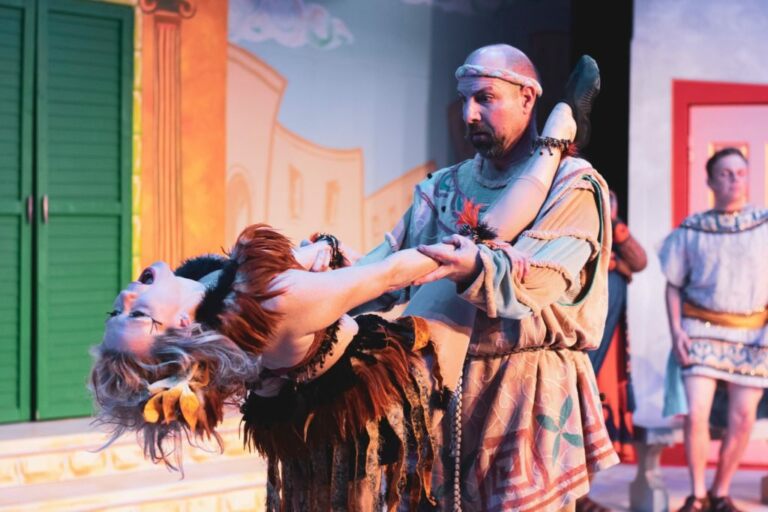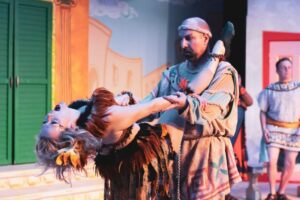 Considered one of Broadway's greatest farces, this musical romp features engaging music and lyrics by Stephen Sondheim. The show is light, fast-paced, witty and irreverent, combining situations from 2000-year-old comedies of Roman playwright, Plautus, with the energy of classic vaudeville. The story revolves around Pseudolus, a crafty slave who struggles to win the hand of a beautiful courtesan named Philia for his young master, Hero, in exchange for freedom. The plot twists and turns with cases of mistaken identity, desperate lovers, secrets and scheming neighbors.
Players' production is expertly directed by Michael Lipp with the right mix of music, dance and comedy. Under Lipp's leadership and with the contributions of a superb ensemble of comedic actors and a talented creative team, the show moves quickly and is a joy to watch.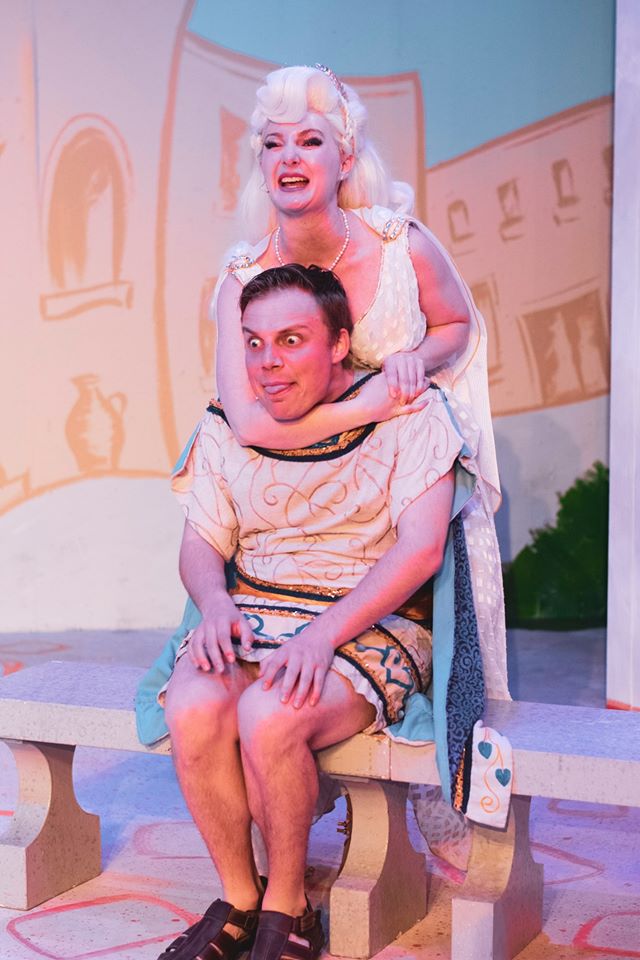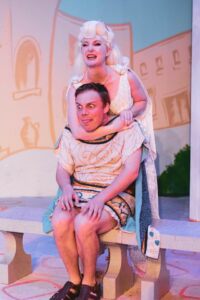 Al Emerick as Pseudolus leads the cast with tireless energy and exceptional comic timing. Billy Speed as Hero and Julie Harrington as Philia are charming as the love-struck couple who must overcome many obstacles to be together. Paepaeala Pimienta is exceptional as Hysterium, demonstrating a range of anxiety and hysteria as he becomes an unwitting accomplice to Pseudolus. Hero's parents are played to perfection by Allen LaMontagne as Senex and Amy Allen Farmer as Domina. Jimmy Alexander as Captain Miles Gloriosus and Christopher Humphries as Marcus Lycus deliver commanding performances, with a memorable performance by Jim Warren as Erronius.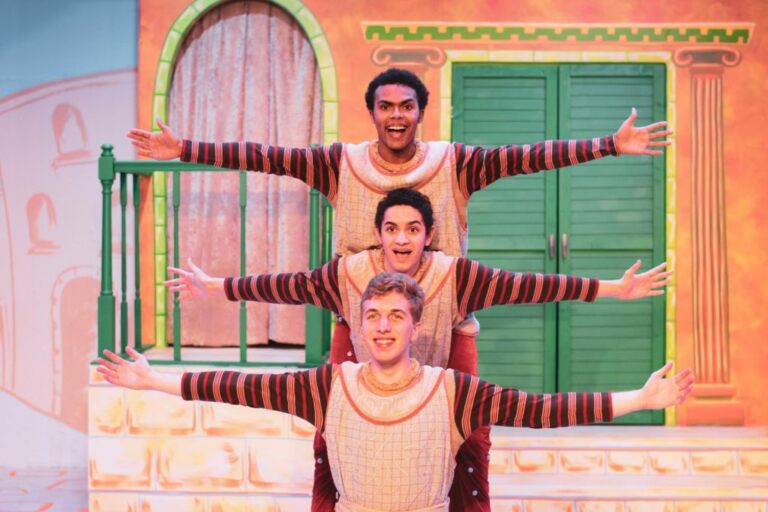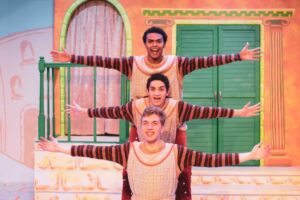 Also notable are the performances by the ensemble teams, the Courteasans (Chelsea Black, Shauna Clark, Anna Fleece, Kimberly Cooper York, Amanda Jackson and Charity Zappone) and the Proteans (Jake McGraw, Chinua Richardson and Kris Stam).
The musical is pleasing to the ear, thanks to the efforts of vocal music director Tina Wilson, orchestral music director Andrew Phoenix and the band featuring Erin Barnes, Sean Tillis, Alexander Hernandez, Carson Smisek and Kimberly Zielinski. Scenic Designer Tom Fallon, scenic charge artist Katie Dawson and production manager Jereme Raickett created a spectacular set that draws in the audience and provides a platform for the madness to unfold. Stephanie Riner's choreography and Ben Sparenburg's lighting design add energetic style. The creative team also includes stage manager Cassie Neiss, assistant stage manager Julia Leadley, and audio technician Destiny Golden. The production's professional costumes were fitted by Lisa Fleming. Tyvin McSwain and Toni Diamond-Bingham are the producers.
Performances continue through Feb. 15. Curtain is at 8 p.m. Thursday through Saturday. There will be a two matinee performances at 2 p.m. on Sunday, Feb. 2 and 9. General admission is $28, $25 for seniors, students and military. Thursday nights are Student Nights with $14 tickets for students with a valid student I.D. at the door.
Tickets are on sale at playersbythesea.org/forum or by calling the Box Office at 904.249.0289.