August Wilson's Radio Golf is in production at All Beaches Experimental Theatre through Feb. 16. This fascinating production is highly recommended. Radio Golf is the 10th and final play in Wilson's American Century cycle. It received the New York Drama Critics Circle Award for Best Play in 2007.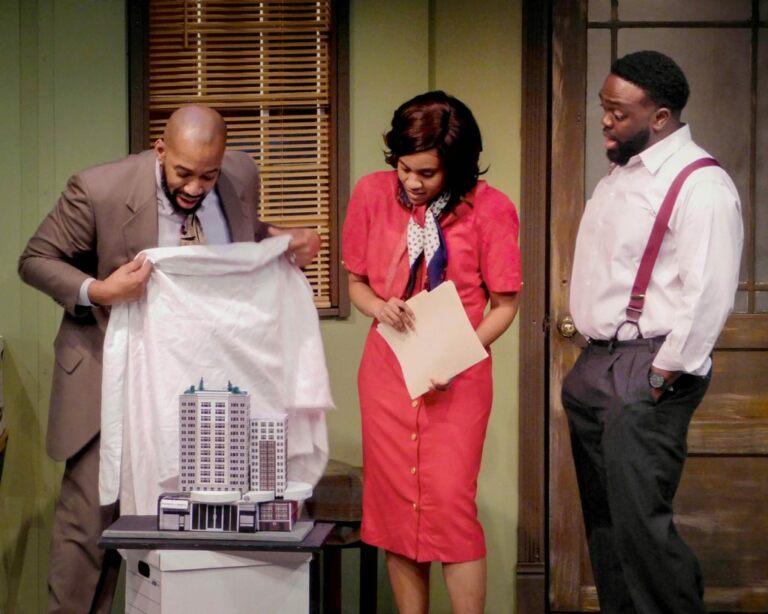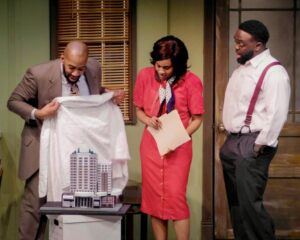 Set in 1997, Radio Golf describes the urban restoration plan for the Hill District of Pittsburgh by two friends, Harmond Wilks, a real estate developer who is aspiring to become Pittsburgh's first black mayor. His wife, Mame, is ambitious and on the brink of working for the Governor. His longtime friend, Roosevelt Hicks, is a banker moving up on the economic ladder and about to become a partner in a radio station. Together, they are working on the revitalization deal, which will include a Whole Foods, Starbucks, Barnes and Noble and an apartment complex. The only problem is that there is a house in the way that must be torn down to make way for the new development. The play's messages include money, morality, opportunity, friendship and identity.
Brilliantly directly by David Girard, Radio Golf is funny, touching, complicated and sad. Wilson's story is engaging and insightful, and the ensemble cast is outstanding. There is wonderful chemistry on stage and the actors bring so much skill, commitment and passion to their roles.
As Harmond Wilks, James F. Webb III captures a perfect balance of a man driven by success and his personal ethics, which leads to a series of decisions that impact everything. Danielle Reliford portrays Mame Wilks with conviction and power. Rahman Johnson is excellent as Roosevelt Hicks, the ambitious and likable golf enthusiast who is focused on forgetting about the past and determined to achieve goals.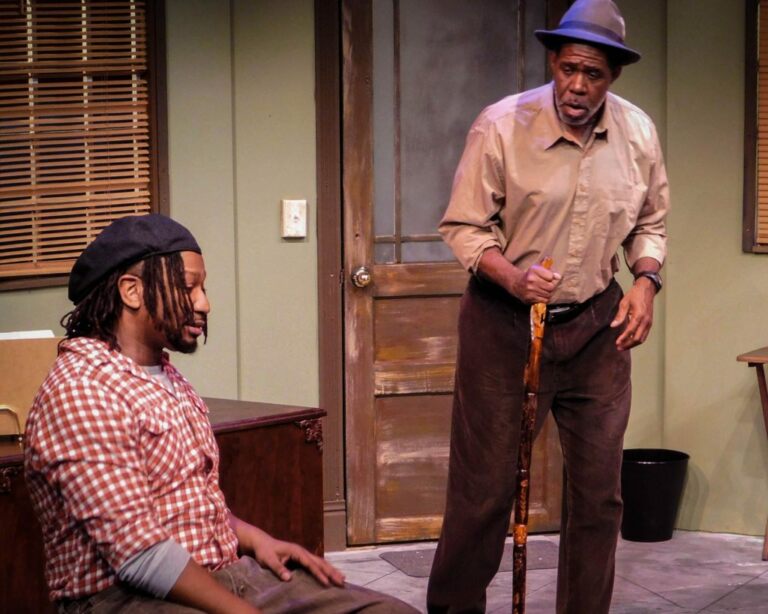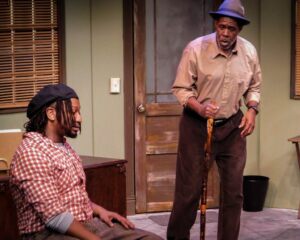 Eugene Lindsey delivers an exceptional performance as the eccentric, charming yet impassioned Elder Joseph Barlow, "Old Joe," who owns the house on the development site. Anthawn Ingram is superb as Sterling Johnson, the ex-con who went to school with Harmond and now works as a contractor. He sees the development's negative impact and doesn't hold back on telling the others to remember what's important to their neighborhood.
Girard designed the development office set with Claire Cimino, who provided the set dressing and props (including a 1990s flip phone.) and Meganne Johnson is the scenic artist. Bryan Frank's lighting design complements the action on stage. The stage manager is Cynthia Riegler and the dramaturge is Ramona Ramdeen. Sabine Larsen is the light and sound operator and Hunter Steinke is the stagehand.
Don't miss this show. Performances continue February 7, 8, 9, 14, 15 and 16. Curtain is at 8 p.m. Friday and Saturday, and at 2 p.m. on Sunday. The house opens 30 minutes before curtain.
Tickets online are $24 adults, $14 under 18. Tickets at the door are $25 adults, $15 under 18. For reservations, visit http://www.abettheatre.com or call (904) 249-7177.
Radio Golf contains adult language. ABET is located at 544 Atlantic Blvd. in Neptune Beach.