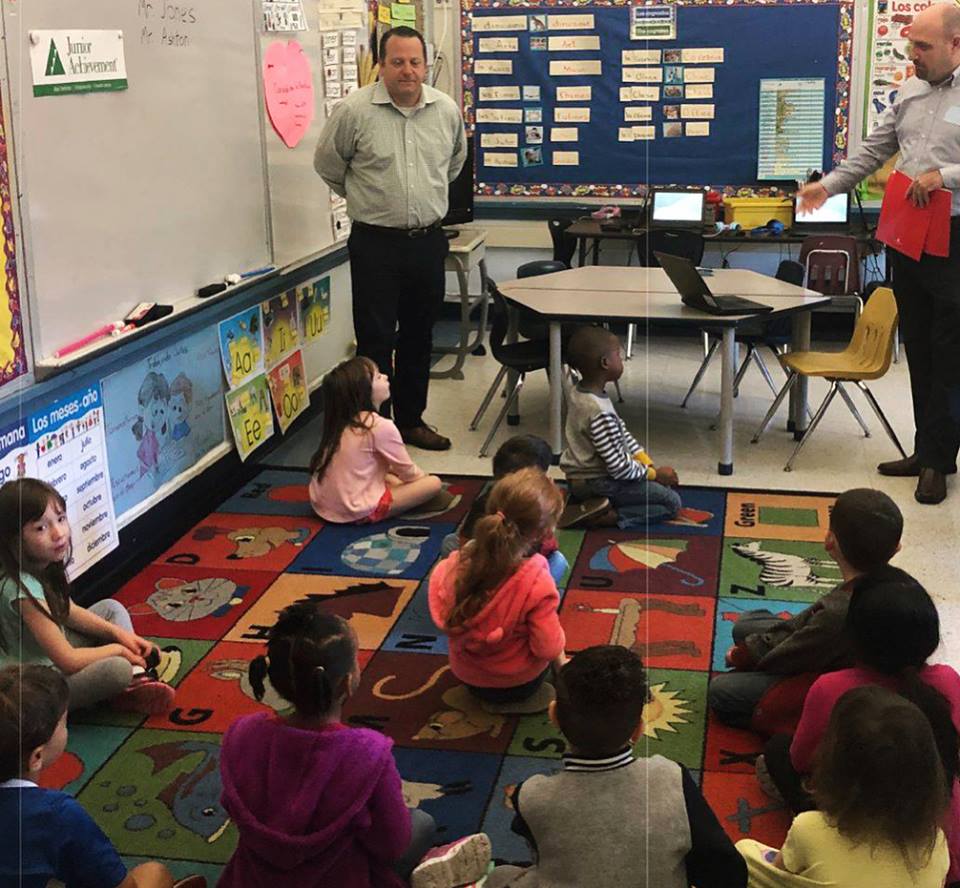 Volunteers needed to teach JA programs to grade levels from kindergarten to high school
Jacksonville, Fla., Jan. 29, 2020 – Junior Achievement of North Florida is currently looking for volunteers to teach a number of JA programs in Duval County schools. Volunteers will be trained by JA staff and will be given program kits with scripted guides and activities for the students. Volunteers can choose to teach at various grade levels from kindergarten to high school. Last year, nearly 3,000 volunteers brought Junior Achievement programs to over 62,000 K-12 students in North Florida.
"Our program coordinators are currently looking for volunteers to give a bit of their time to teach financial literacy and job skills to our next generation of leaders," said Steve St. Amand, president of JA of North Florida. "No financial background is necessary to teach a variety of programs in our local schools. You just need to fill out our application and clear a spot in your schedule to help positively impact a child's life."
JA is currently looking for volunteers to teach the JA It's My Job program at Mandarin High School which helps teach professional communication and soft skills to prepare students for future careers. Dates for those classes vary and will run through February. JA also needs volunteers to teach the JA More Than Money program at Cedar Hills Elementary once a month from 5 p.m. to 6 p.m. through May. The program gives students in grades 3 to 5 valuable information to make smart decisions about managing money.
Coordinators are also looking for volunteers to join them at Duval Charter at Flagler Center to teach a variety of JA programs to kids from kindergarten through middle school. The classes will be held on Fridays from 4 p.m. to 5 p.m. through Feb. 14. In addition, volunteers can choose to teach traditional JA programs at Daniel Academy.
Those interested in volunteering can visit janfl.org or call (904) 398-9944. Each volunteer will be given training prior to the class which will include tips on classroom management, how to deliver the curriculum and how to communicate with teachers and students. The training session typically lasts about 45 minutes.
Junior Achievement's programs are designed for students from kindergarten to 12th grade to teach the principles of financial management and how to become career-ready. The programs are taught by corporate and community volunteers who share their real-world experiences to help the students see how what they learn in the classroom can be used when they enter the workforce.
About Junior Achievement of North Florida
Junior Achievement is the world's largest organization dedicated to educating students about workforce readiness, entrepreneurship and financial literacy through experiential, hands-on programs. Junior Achievement of North Florida has been operating in Jacksonville since 1963 and includes a satellite office in Tallahassee. Through an innovative partnership between the business community, educators and volunteers, Junior Achievement of North Florida helps young people connect with relevant learning and the importance of staying in school. This collaboration resulted in 62,355 students reached during the 2018-2019 school year. To learn more about Junior Achievement of North Florida, visit http://www.janfl.org.