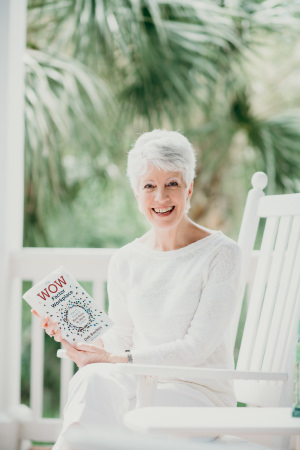 The award-winning book, The WOW Factor Workplace, shares techniques for engaging employees and giving them what they need to be successful during this time of reset and beyond. 
Jacksonville, Florida – June 16, 2020 – The WOW Factor Workplace: How to Create a Best Place to Work Culture by Amelia Island resident Deb Boelkes has been named by the Independent Book Publishing Professionals Group as one of the best indie books of 2020.
Deb Boelkes' book is a finalist of the CAREER category in the 2020 Next Generation Indie Book Awards, the world's largest book awards program for independent publishers and self-published authors. The winners and finalists will be honored June 26 in an online event which will stream live on Facebook at https://www.facebook.com/NextGenerationIndieBookAwards at 8:00 pm (Eastern Time) and 5:00 pm (Pacific Time).
The Next Generation Indie Book Awards are judged by leaders of the indie book publishing industry, including many with long careers at major publishing houses. Their love of a great read and experience in the publishing arena identify books deserving a wider audience. 2020 is the 13th year of the not-for-profit book awards program.
The WOW Factor Workplace (Business World Rising, December 2019, ISBN: 978-1-734-07610-3, $19.95) is an enjoyable, easy-to-read Business / Leadership / Management book that delivers a real wake-up call to executives and leaders everywhere. In it, readers at any level of management will discover how to create a WOW factor workplace where the best and most talented people line up to get in.
In an article at CNN.com titled If it's cool, creative, and different, it's indie, journalist Catherine Andrews wrote: "The term 'indie' traditionally refers to independent art – music, film, literature or anything that fits under the broad banner of culture – created outside of the mainstream and without corporate financing." That definition remains true for book publishing.
Independent book publishing companies are independent of the major conglomerates dominating the book publishing industry. Indies include small presses, larger independent publishers, university presses, e-book publishers, and self-published authors.
This year's awards event was originally planned to take place at Chicago's Newberry Library, to coincide with the American Library Association Annual Conference, but was moved online due to the COVID-19 pandemic.
###
About the Author:
Deb Boelkes is the author of The WOW Factor Workplace: How to Create a Best Place to Work Culture and Heartfelt Leadership: How to Capture the Top Spot and Keep on Soaring. Deb is not just a role model heartfelt leader; she's the ultimate authority on creating best places to work, with 25+ years in Fortune 150 high tech firms, leading superstar business develop and professional services teams. As an entrepreneur, she has accelerated advancement for women to senior leadership. As an award-winning author and keynote speaker, Deb has delighted and inspired over 1,000 audiences across North America.   
About the Book:
The WOW Factor Workplace: How to Create a Best Place to Work Culture (Business World Rising, December 2019, ISBN: 978-1-7340761-0-3, $19.95) is available at The Book Loft in Fernandina Beach and from major online booksellers in paperback, ebook and audiobook formats.
For more information, please visit http://www.DebBoelkes.com.