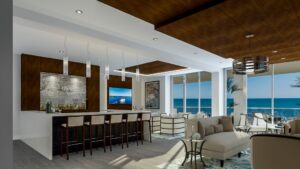 We are proud to announce that The Hanley Home Team is now specializing in high-end clients and luxury properties in the Jacksonville area. Our team is comprised of experienced, licensed, local real estate professionals who are eager to assist in selling your home. From researching the market and negotiating contracts, we are here to find you a home that exceeds your expectations. Whether you are looking to buy or sell your home we have the resources to provide you with the best real estate insight in Jacksonville. We understand selling your property and finding a new home can be a challenge but that's why we are here. We have experts in your area who will work endlessly to gain your trust and confidence, so we can find a home that is just right for you.
We offer a state-of-the art website equipped with a variety of tools to help you through the decision- making process along with trusted licensed real estate agents that are experienced in your community to assist you with any questions or concerns you may have. We believe in establishing a positive relationship with our clients, so you can count on us regardless of the issue.
If you are looking to buy a home, we have local experts ready to assist you through-out the entire buying process. We are committed, fast, but also thorough in finding the right place for you. We have trained agents in Jacksonville ready to find the perfect house at an even better price.
We specialize in setting an accurate market price as well as creating marketing campaigns for those looking to sell their home. We know it can be difficult pricing your property so that's why we are here to help you understand each step along the way, so we can get the best offer possible.
The Hanley Home Team has local financial experts to assist you in finding the right loan with competitive rates and a low down payment as well. We have the resources and knowledge to make sure you are satisfied with you home. Let us help you find the best rates and loan program in town.
We're excited to announce new oceanfront luxury condos in Jacksonville Beach! Waterfall
Condominiums of South Jacksonville Beach located on 1 st street, offers a limited collection of oceanfront and penthouse suites that are walking distance to all the shops and restaurants Jacksonville Beach has to offer along with a short drive to some premier spas and golf courses. This brand-new waterfall condominiums offers a refreshing elegant oasis pool, deck, and kitchen overlooking the ocean. Witness
the breathtaking sunrise every morning from your private panoramic outdoor patio and terrace with open-view glass railing. Where contemporary meets modern, get ready for a new generation of luxurious living!
The Hanley Home Team is here to provide you with the best knowledge and tools to ensure you experience with us is second to none. We are here to make your life easier so, if you are looking to buy, sell, finance, or just have questions about your property do not hesitate and give us a call today. Our experienced licensed staff will work with you until your dream home becomes a reality.