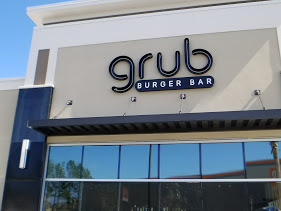 Written by Anna Heise @annaeatzjax
My friend and I were recently treated to a feast of tasty, well-imagined burgers, salads, side dishes and adult milkshakes. Where you ask; that would be the newest addition to St Johns Town Center Grub Burger Bar.  Fast casual food that offers options for the hardcore carnivore as well as those who prefer meatless plant-based alternatives.  There is a full bar offering up craft cocktails and well-imagined adult milkshakes.
With a wide selection of burgers, salads, sandwiches, bowls, tenders, and sides you can't go wrong visiting this restaurant.  Customer service was top notch, with every team member offering expert care and friendliness. We were served a variety of items from each category, and I honestly have not been able to pick a favorite, they were all that pleasing.  Let's discuss a few menu items.
Starting with the Cheese Fries a ginormous plate of Skinny fries, Monterey Jack and Cheddar cheese sprinkled with generous amounts of Bacon and Jalapeños. Fries were crisp and salty, the heat from the Jalapeños added just the right kick. Next, the Mac "N" Cheese nicely surrounded by cheese sauce and bacon.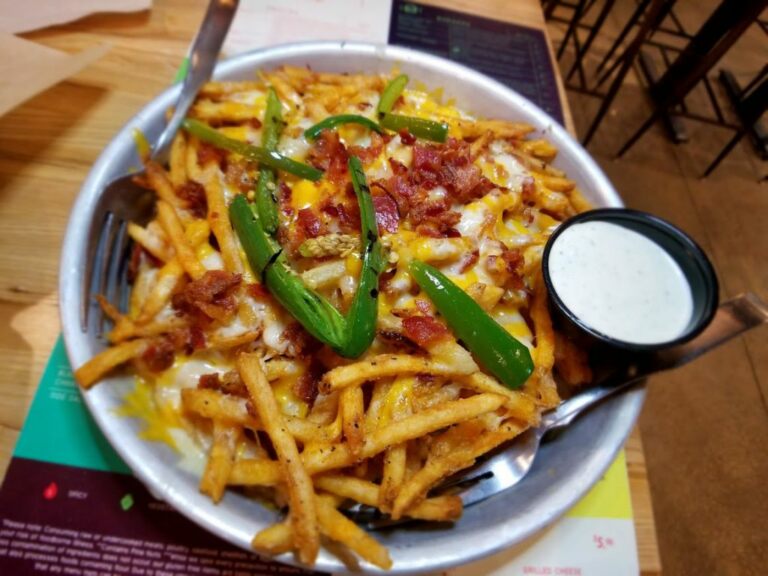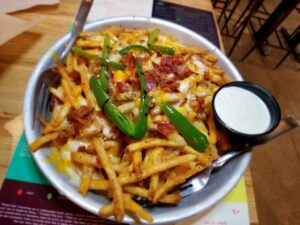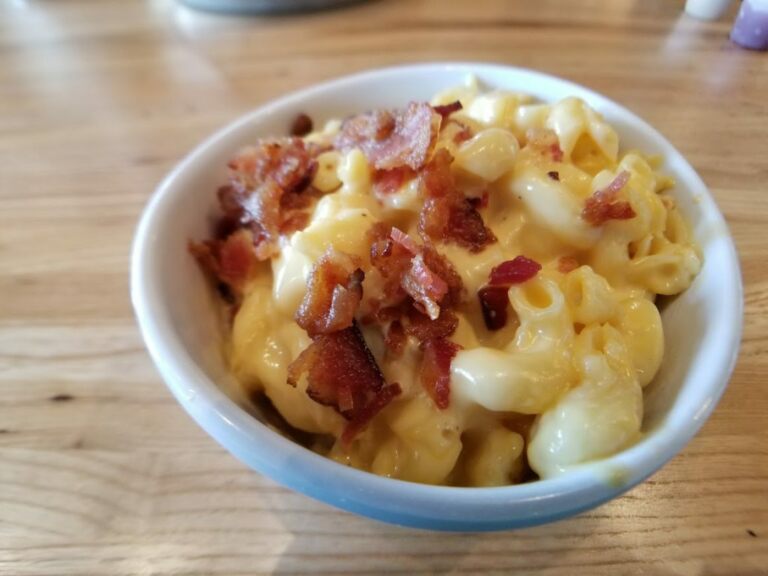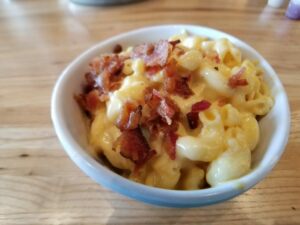 Mac 'N' Cheese
Next up we sampled the delightful and tasty California Chicken Bowl packed full with a well-grilled chicken breast, crispy bacon, black beans and corn medley, lettuce, Campari tomatoes, queso fresco, and ancho lime vinaigrette.  The California bowl would be a great vegan dish minus the chicken.  The bowl was ample enough to feed both of us.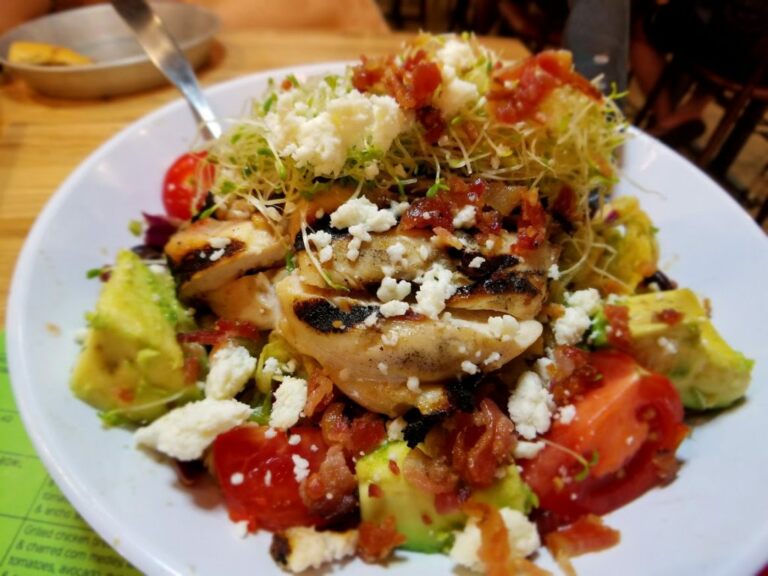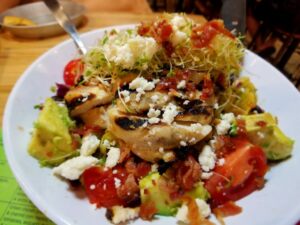 Then the stars of the event began arriving.  In no particular order; The Lockhart Legend, their most popular burger, when you see and taste this item it's easy to see why. Loaded with Applewood smoked bacon, cheddar cheese, Dr. Pepper BBQ sauce, two onion rings and sliced dill pickles, a two-fisted burger for sure. Then the Mac 'N' Cheese Burger, what's there to say about this?  Messy for sure but who cares, we had copious amounts of paper towels and delighted in each bite. Last, to arrive the VooDoo Mushroom Burger. Personally, I fell under its spell; Absinthe sautéed mushrooms, Swiss and Tabasco mayo. An unusual flavor of licorice-infused the mushrooms leaving a most pleasant heat in the mouth.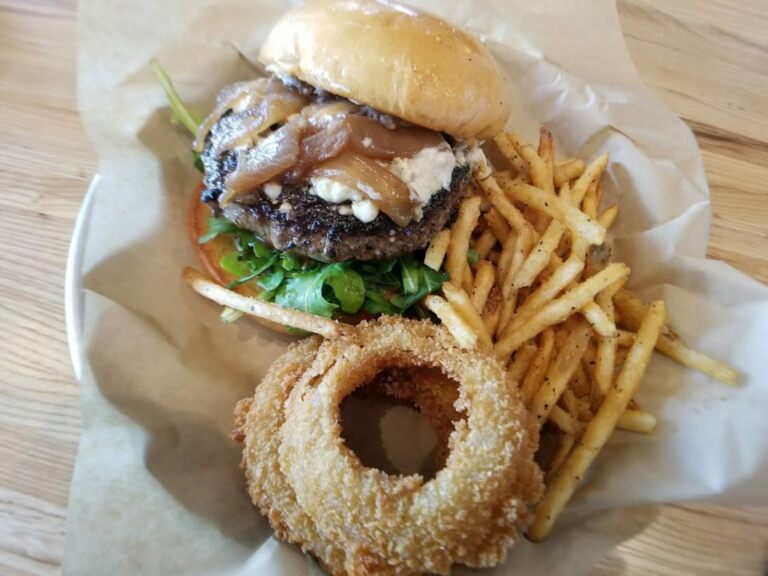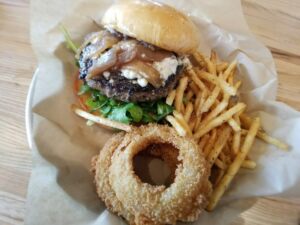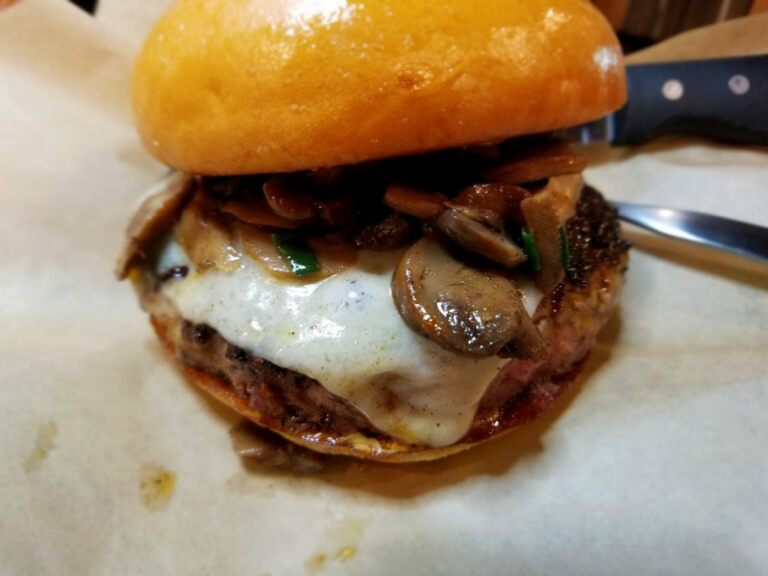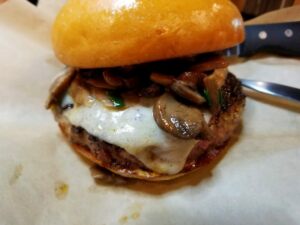 We finished off with two Milkshakes;  the Kitchen Sink loaded with pretzels, peanut butter, salt, butterscotch sauce, caramel sauce, chocolate chips, coffee grounds and potato chips. Plus the fantastic spiked adult Bourbon and Caramel adult bevy. The name says it all.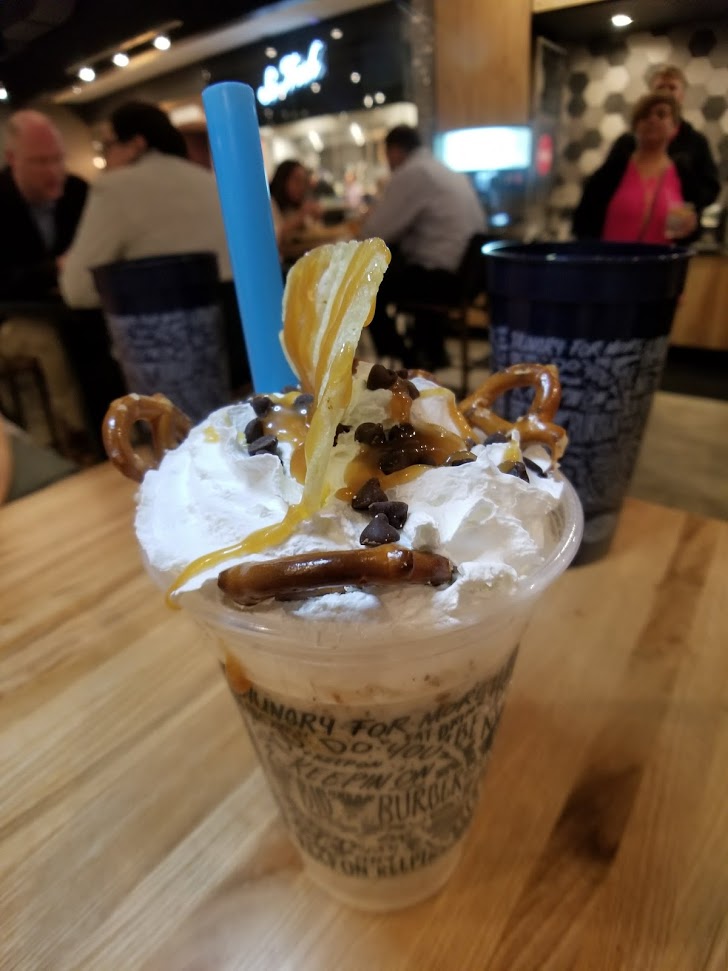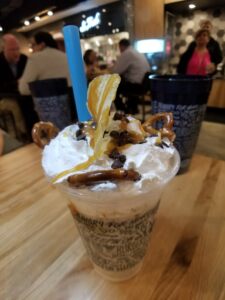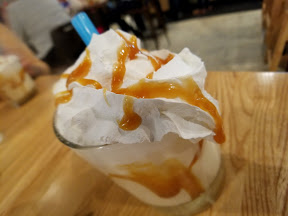 I must add, since this visit we have been back not so much for the burgers, we know they are top notch, hand shaped daily using the best quality ingredients available.
We ordered every side on the menu that we did have before.  In my humble opinion the Brussel Sprouts are on fire, a close second the Waffle cut sweet potatoes, and then the beer battered hand-dipped onion rings.
This restaurant is a natural choice for families,  a casual lunch or a quick meal at the bar.