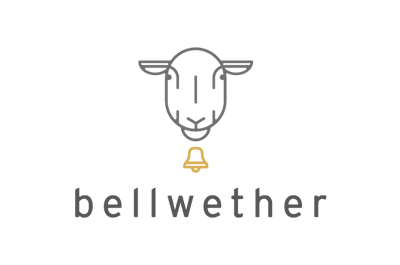 By Keith Rydh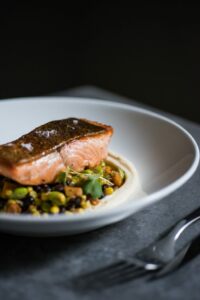 When Food & Wine mentions a new restaurant in downtown Jacksonville, and you haven't been there yet, then you certainly must stop by! We took advance of this during a recent downtown Art Walk and visited Bellwether. The new sister restaurant to Black Sheep and Orsay believes in using ingredients that are grown and sown right here in Northeast Florida. What can't be sourced from local vendors that they know and trust, they make fresh in their industrial kitchen at their sister location at BLK SHP. Their made-from-scratch sauces and house-cured meats reflect the commitment to quality that's kept Black Sheep and Orsay at the forefront of Northeast Florida's farm-to-table movement. When you dine at Bellwether, you're supporting local farms, breweries, and bakeries, as well as supporting the downtown Jacksonville growth.
Bellwether has good lineage too! Chef Kerri Rogers started with Black Sheer Restaurant Group at Chew downtown, then moved to Black Sheep in 5 Points in October of 2012. She ultimately took charge of the pastry program there while continuing to develop her skills in the savory side under Jon Insetta and Chef Waylon Rivers. When Bellwether was set to open, Rogers was a perfect choice to head up the kitchen there. We couldn't agree more!
The menu at Bellwether holds true to the serving fresh and local. The elevated Southern classics include dishes such as fried shrimp and grits, chicken and dumplings, short ribs and a crispy skin salmon dish. They also offer plenty of salad choices along with vegan and gluten free options. I tried their dill pickle brined fried chicken thigh sandwich along with a local brew. The sandwich was perfectly breaded and very tasty. I was pleasantly surprised by the side fingerling and sweet potato salad that was popping with flavor.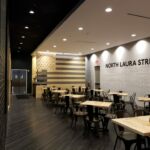 The décor of Bellwether was very nice, fitting a young urban groove and the staff was upbeat and friendly. As with most downtown location, street parking is expected, but I'm sure you'll enjoy the visit.
Bellwether: 100 North Laura Street, Jacksonville
(904) 802-7745: http://www.bellwetherjax.com
SaveSave
SaveSave
SaveSave