Interview with owner, Kori Blacker Tafoya.
Describe your business.
One of a kind in a sense. Retail by day, restaurant by night. I would consider the dishes "Americanized tapas" because they are larger than the traditional, Spanish tapas. Royal Palm has been open nearly 6 years and started out with more traditional style tapas but has since expanded portion sizes and customized the dishes to meet the demands of the customers.
What do you want people to know about your business?
We sell a large selection of wine at retail price and are very competitive with larger companies such as ABC Liquors and Total Wine.
Also, we support local businesses and the "farm to table" concept.  The prices are higher but so is the quality of the food. The fresh ingredients and preparation time factor into the upscale experience.
We taste every wine that comes in so we can determine what should be sold at Royal Palm. We sell more common selections as well as boutique wines that can't always be found at other stores.
Do you host any events?
Yes, on Fridays we always have a complimentary wine tasting from 5 pm to 8 pm. A wine distributor comes and shares four to five different wines. Along with that, there's no corkage fee at dinner if a customer decides to buy one of the wines from the tasting.
Describe the atmosphere.
Royal Palm is a great location to experience a more intimate setting, however, large parties often have a great time here as well. People are able to spend hours tasting an abundance of wine and pairing them with their tapas.
How do people find out about your business?
When we first started we did a small amount of advertising but since then it has been word of mouth and an active social media presence.
To find out more about Royal Palm Village Wine & Tapas visit their website RoyalPalmWines.com or follow their social media @royalpalmwineandtapas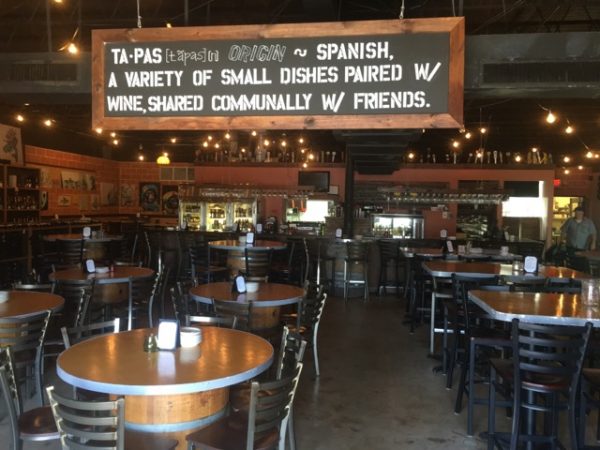 Address:
32233
Business Hours:
| | |
| --- | --- |
| Friday | 11AM–10PM |
| Saturday | 11AM–10PM |
| Sunday | Closed |
| Monday | 11AM–9PM |
| Tuesday | 11AM–9PM |
| Wednesday | 11AM–10PM |
| Thursday | 11AM–10PM |
Phone: (904) 372-0052