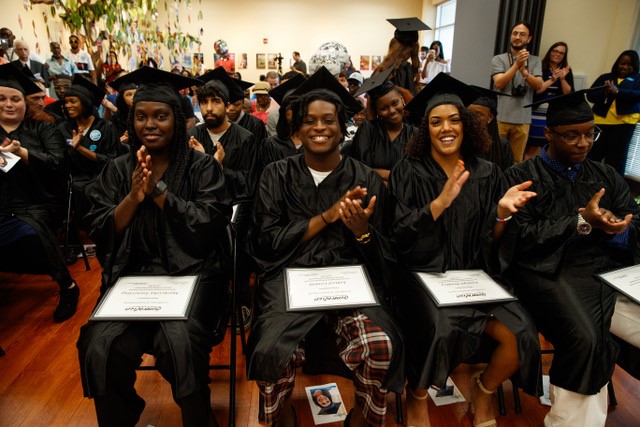 Media Contact
Jessica Rood
U.S. Communications Manager
315-427-5858
Generation Kicks off Community Project with Free
All-Ages CommUNITY Event August 25
Jacksonville vendors and sponsors come together to support community and launch series of events at the Weaver Center for Community Outreach
JACKSONVILLE, August 22, 2018 – Generation, a global nonprofit focused on helping unemployed and underemployed young people with programs in Jacksonville, will launch its new Community Leaders Igniting Mobility, or CLIMB, project this Saturday with a CommUNITY Fest at the Weaver Center for Community Outreach.
Research conducted by Generation and its partners – the United Way of Northeast Florida and the Network for Southern Economic Mobility – found that many young people in Jacksonville do not have an opportunity for economic mobility.
CLIMB aims to bring together Jacksonville community leaders to identify, understand and disrupt the roadblocks to mobility for the citizens of Jacksonville. In partnership with the United Way, Generation will be hosting a series of CLIMB community meetings in Jacksonville neighborhoods over the coming months to discuss mobility and issues of access to transportation, childcare and healthcare in their communities.
"We know the future of our community is tied to the success of our young people," said Phyllis Martin, Head of Community Impact and Strategic Investments for United Way of Northeast Florida. "Through intentional listening, intentional focus, and intentional action CLIMB is working to ensure our young people can achieve their aspirations and that businesses have the local talent they want and need to thrive."
CLIMB's first CommUNITY Fest will be held Saturday, August 25, from 10 a.m. to 1 p.m. the Weaver Center for Community Outreach, which is located 616 A. Philip Randolph Blvd. The free event includes items from the following food trucks: Ambitious Eats, Treemendous Sea and Soul Food, Treemendous BBQ and Frozen Sweets Truck. Giveaways and raffle items include laptops, backpacks and lunchboxes for the kids, Fresh Market basket of goods, adult and child bikes helmets and a monthly bus pass. Participants can also enjoy live music from 106.1 Radio bus and activities for the kids like Space Walk Jax, face painting, wellness information and much more!
"So many people are working hard to make sure Jacksonville youth and families have a chance to move up economically through both educational and career opportunities," said Alex Rudnick, Generation U.S. Retail Program Manager. "CLIMB is bringing people together to tackle barriers that hold young people back, and to create new opportunities for them to succeed."
CLIMB Community Fest Wellness Vendors
      Florida Department of Health- Duval County
      Girls Inc of Jacksonville
      Operation New Hope
      Northeast FL Coalition, The Magnolia Project
      CAN community health
      Lutheran Services HS/EHS-Child Care Partnerships
      Lutheran Social Services
      United Way NEFL/RealSense
      Generation – Programs
      Chamos Language Academy, LLC
      Springfield Preservation and Restoration, Inc.
      Northeast Florida Healthy Start Coalition
      Generation – Clothing Drive
      FreshMinistries, Inc.
      Usborne Books & More
      Hubbard House
      City Year
      New Town Success Zone; Financial Opportunities Center
      PACE Center for Girls, Inc.
     Community Rehabilitation Center
     Florida Rights Restoration Coalition
      JEA
Funded by a grant from the Walmart Foundation, CLIMB will host a series of community forums in the Jacksonville neighborhoods of New Town (Sept. 27), Springfield (Nov 1) and Arlington (Dec 6). Community discussion topics include roadblocks and pathways to education and employment. The forums provide an environment for community members to voice their experiences and shine a light on priorities to work toward to diminish poverty in Jacksonville.
CommUNITY Event Details: Saturday, August 25, 10 a.m. – 1 p.m. at the Weaver Center for Community Outreach, 616 A Philip Randolph Boulevard, Jacksonville, FL, 32202.
For more information about CLIMB, please visit www.climbjax.net/our-vision/.
For more information about Generation, please visit www.generation.org.
About Generation: Today, more than 75 million young adults are out of work globally, and three times as many are underemployed. At the same time, 40 percent of employers say a skills shortage is leaving them with entry-level vacancies. Generation is a youth employment nonprofit with a dual mission to empower young people to build thriving, sustainable careers and to provide employers the highly skilled, motivated talent they need. Today, more than 20,000 young adults have graduated from the Generation program, which prepares young adults for careers in nearly 80 cities and 200 locations across seven countries, with three countries in pre-launch – UK, France, Italy, and Pakistan. Generation works with 2,300+ employer partners and a wide range of implementation partners and funders. The organization was founded by McKinsey & Company in 2014.