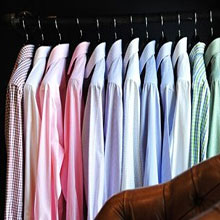 Necktie tips and tricks to ensure it looks its best!
The most economical way to get a new look is to change your tie.
Do you have sixty or a hundred and wear only six or seven favorites?  Do yourself a favor and pick out four favorite ties for each outfit and hang them with the jacket or pants.  Then as hard as it may be, give the others to charity, your son, or throw them away. It only makes it harder to choose when there are so many.
Untie your tie the same way you tied it.  This reduces wear and tear, particularly to the lining at the small end of the tie.  It also prevents wrinkling.  Never jerk the small end of the tie without loosening the knot.
Having a tie dry cleaned ruins it.  Try to wash by hand with Woolite if possible.  Otherwise, sorry, but it is time to let go.
Keep an extra tie in the office in case you dip one in your chili.
Check out custom suit options offered by J.T. Vinson Clothiers here – http://www.jtvinson.com