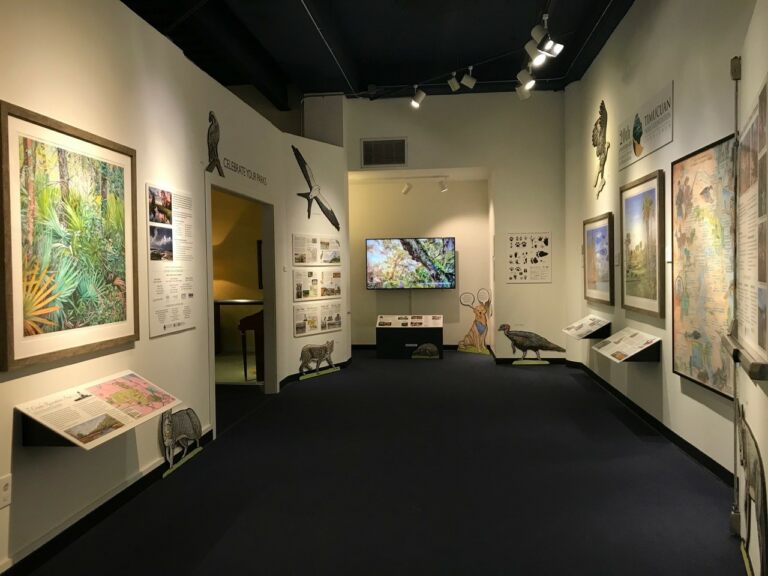 Timucuan Parks Foundation's 20th Anniversary Exhibition at MOSH features Special Activities this Saturday
Entrance to the museum is free as part of Jax AquaFest
Jacksonville, Fla., Jan. 28, 2020 – Timucuan Parks Foundation's 20th Anniversary Exhibition at the Museum of Science and History will feature special activities on Saturday, Feb. 1 as part of Jax AquaFest. Admission to the museum is free courtesy of the City of Jacksonville's Environmental Protection Board. From 10 a.m. to 4 p.m., the National Park Service will be teaching museum-goers about the benefits of living shorelines and how they are used to protect historic structures. A living shoreline utilizes natural materials like plants, sand or rocks to provide a protective and stabilized coastal edge. Participants will also be able to design their own living shoreline that they can take home.
Timucuan Parks Foundation will also be presenting its Wetlands Enviroscape which is a hands-model designed to show how things like litter, pet waste and fertilizers can affect the health and resilience of waterways and coastal ecosystems. The demonstration teaches how the community can help protect those waterways by using best management practices. It gives a visual of how wetlands can help with ecological restoration, specifically flood mitigation and pollution filtering.
These activities at MOSH will be held in conjunction with Jax Aquafest. The day of activities, sponsored by Jacksonville's Environmental Protection Board, is a collaboration by environmental advocates who will showcase ways the community can protect, reclaim and conserve water for future generations. It will include special guest speakers, river tours, a touch tank, a museum scavenger hunt and face painting.
Each month, the National Park Service hosts activities at MOSH during TPF's 20th Anniversary Exhibition which runs through May 31, 2020. The exhibition, titled "Celebrate and Explore Our Wilderness Parks," features information about TPF's decades of work to protect local parks and preserves and what they are doing moving forward to promote and enhance the natural areas. These engagement activities are made possible by a sponsorship from Berry & Co. Real Estate.
About Timucuan Parks Foundation
Timucuan Parks Foundation is a nonprofit organization that preserves, promotes and enhances Jacksonville's natural areas through community engagement, education and enjoyment. The foundation originated in 1999 with the Preservation Project Jacksonville, Inc. to identify and assist in acquiring the most vulnerable and environmentally sensitive lands in Duval County. The acquisition of lands created the largest urban park system in the United States. Timucuan Parks Foundation works with park partners, including the National Park Service, Florida State Parks and the City of Jacksonville, to promote environmental stewardship, the health benefits of the parks and preserves, and an appreciation for Jacksonville's special outdoor spaces. More information about TPF and their Special Places video can be found at https://www.timucuanparks.org/.