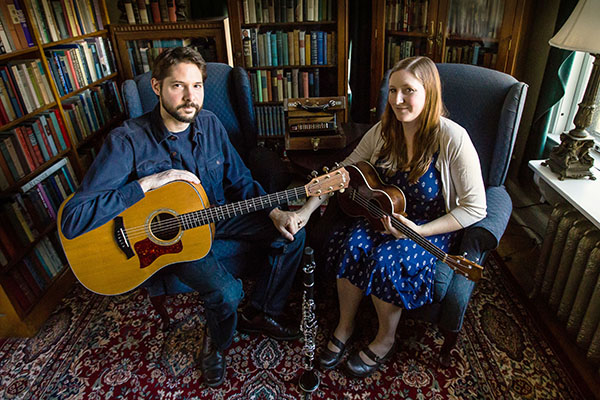 Mark Mandeville & Raianne Richards on Tour from Massachusetts Bring Original Folk Songs
MA based Folk troubadours Mark Mandeville & Raianne Richards will perform Friday October 25 at 8 pm at Blue Jay Listening Room. Mandeville & Richards offer some new material and  songs from their CD "Live in Manitoba" featuring original songs and stories recorded live during a two week tour of house concerts throughout the province of Manitoba, Canada. 
The duo were invited by the organization Home Routes to complete a route during their fall 2017 season. Home Routes/Chemin Chez Nous was initiated by the founders of the Winnipeg Folk Festival and the West End Cultural Centre, (Mitch Podolak and Ava Kobrinsky in collaboration with Tim Osmond) to create new performance opportunities for French and English speaking musicians and audiences in rural, remote and urban, communities across Canada, hosted by volunteers in their homes and other community venues.  
Mark Mandeville & Raianne Richards have just completed their 10th Annual walking tour of Massachusetts. Each summer since 2010 they have organized the "Massachusetts Walking Tour" where they hike the roads and trails of the Commonwealth, more than 100 miles in less than two weeks, in support of the arts in local communities along the way. Each evening they stop over in yet another Massachusetts town, putting on a free concert there, along with local performers and fellow artists who accompany them on their journey. These annual two-week treks also raise awareness of the trails and greenways in Massachusetts, using music to make important connections. In the fall of 2017 Mandeville and Richards received official recognition before congress and were added to the congressional record by Senator Ed Markey for their efforts in the community through the Massachusetts Walking Tour.
These artists blend distinctive voices with rich tantalizing harmonies and a wide range of accompaniment (guitar, harmonica, mandolin, ukulele, clarinet, penny whistle, electric bass) featuring original and traditional acoustic Folk/Americana songwriting.Transcending the genre of folk Americana, their music echoes inspiration from traditional folk duos and singer/songwriters like Ian & Sylvia, Kate Wolf and Neil Young – combining beautiful harmonies and a lyrical intensity, while establishing a unique sound of their own. They have been well-received by audiences around the United States and Canada since 2010. Between tours Mark and Raianne teach music lessons out of Blackstone Valley Music in Uxbridge, MA. 
Performance dates and more info can be found at: