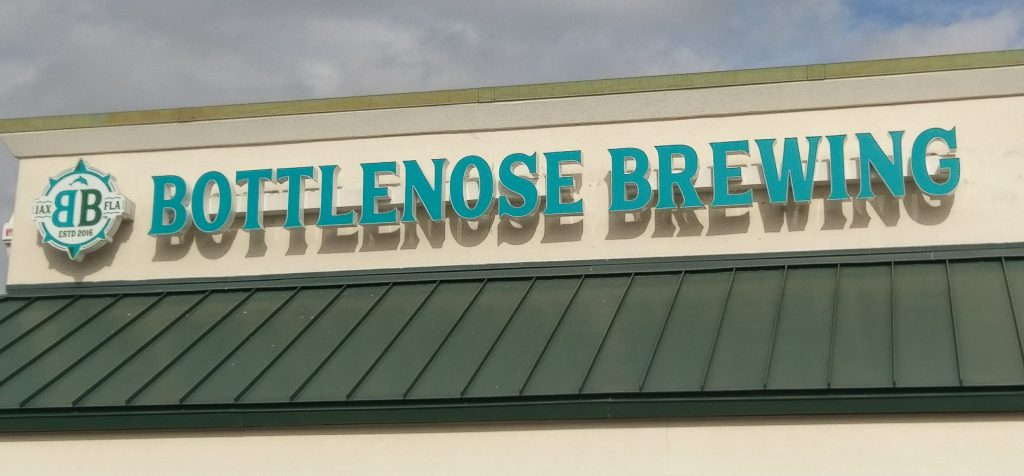 The house was packed at Bottlenose Brewing on Saturday afternoon, February 3, as the brewery released its first round of house beers on tap.
"It's been a party since 11am," said Head Brewer Chas Nemecek. Owner Mark Stillman constantly moved around between the kitchen, bar and indoor and outdoor dining areas interacting with the guests and handing out logoed koozies and stickers. The brewery opened last April in the former World of Beer space in the Tinseltown entertainment district, as a bar and kitchen with 50 Florida guest beers on tap. Brewing equipment had been ordered and pieces of the brewhouse started to fall in place last autumn. Chas brewed his first beer for Bottlenose Brewing at Intuition Ale Works, a Raspberry Tart collaboration beer, which was tapped on September 2. Chas began brewing the first Bottlenose house beers around the beginning of the New Year.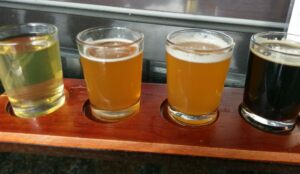 On Saturday, the brewery tapped 16 house beers as it introduced its own beers to the public for the first time. While the list included five beers that may be considered "core," the remainder of the tap list featured small-batch variants:
Light Lager, and treatments of Raspberry, Tangerine, Key Lime, and Blueberry;
IPA, Pineapple IPA, Grapefruit IPA, Double IPA, Grapefruit DIPA, Mango DIPA;
Oatmeal Stout, Chocolate Stout; and
Pale Ale, along with versions of Passionfruit and White Peach.
Guests can order full pours (served in 16oz or 10oz size, depending on the beer) or opt for 4oz flight-sized pours to get a taste of a few.
The three-barrel brew system is visible from the main bar and dining room. The brewhouse also includes two 10-barrel fermenters, two 10-barrel brite tanks (in the cooler), three 3-barrel fermenters, and one 3-barrel brite tank. Although it's a smaller commercial system, the "beauty" is that it's also easier to "tweak and perfect" the beers, said Chas, who also sees turning out many different styles from here on out. Mark added that the brewery is still "dialing in" the beers, and that additional styles, such as red, brown, and sours are yet to come.
In addition, Bottlenose Brewing has a full kitchen, which, as of this writing, offers several different burgers, including a veggie burger, French Dip sandwich, bratwurst, chicken sandwich, grilled cheese, Chicken and Chips, and Nashville Hot Chicken and Nashville Hot Chicken and Waffles. A variety of side toppings are also available. Appetizers include several variations of fries, onion rings, fried pickles, hummus, baked pretzel sticks, house and Caesar salads, and pierogi and kielbasa.
Bottlenose Brewing, 9700 Deer Lake Ct., is open seven days a week, beginning at 11am. The brewery hosts a Run Club on Thursdays at 6:30pm; Trivia on Tuesdays at 7:30pm; Ladies Night on Wednesdays from 6-9pm; and Weekday Happy Hour, Monday thru Friday, 3-7pm ($1 off drafts and wine). Seating is inside in the main bar/dining room, and outside on a large covered patio, equipped with heaters.
Cheers!
Linda Johnson, Certified Cicerone®
Covering Florida's beer scene, and locally around the greater Jax area
(adapted from original story on www.brewnymph.com)
(photos by Linda Johnson)
Linda Johnson is a BUZZ Contributing Writer (beer!) and founder of the beer and travel website, BrewNymph.com, covering all things Florida beer from news to events. She is the first female Level 2 Certified Cicerone® in the Jax area, one of seven in the metro area, and the only Level 2-certified independent beer writer in the state.