Dog Rose Brewing Co., the area's newest brewery, plans to open later this summer in the historic Lincolnville area of St. Augustine.  Heading the brewery is Doug Murr, President, CEO and Head Brewer.  Doug brings 15 years of commercial brewing experience to the startup brewery, having been the head brewer at A1A Ale Works in St. Augustine since 2002. When A1A Ale Works ceased brewing operations at the end of 2016, Doug acquired the brewpub's brewing equipment. Dog Rose Brewing signed a lease on the Lincolnville property in February, and renovation of the building, which previously housed an art gallery, began.
The colorful exterior leads inside to a 30-foot bar with ten draft taps.  The bar top is handcrafted from Ambrosia Maple boards, as will be the table tops.  The venue measures roughly 5000 square feet, with the tap room and the brewhouse each covering about half of the space. The tap room will feature two professional dart boards and a 16-foot stand-up shuffleboard table. A standing bar will run along a large picture window overlooking the street. Track lighting will be complemented by beer-related art pieces and concert posters.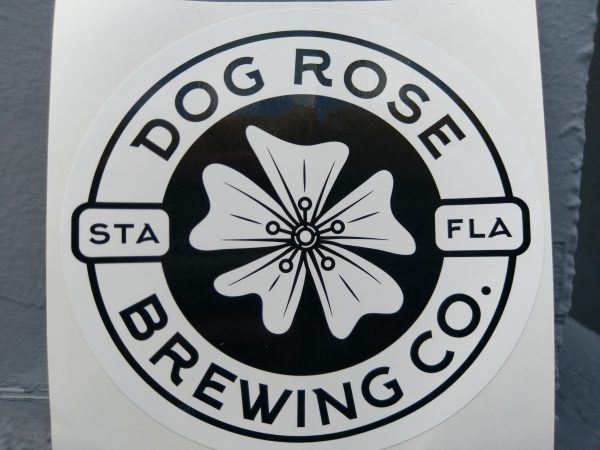 Dog Rose Brewing will serve its own handcrafted beers when it opens. The 10-barrel brewhouse system includes three 10-barrel fermenters and three 20-barrel fermenters. While he "enjoys pushing the limits" of brewing beer, Doug also wants to "go back to basics" and serve "good, straightforward beers."  He's always open to new ideas and "not following bandwagons." The brewery expects to offer three or four flagship brews, along with five or six rotating beers. Core beers include a lighter beer, such as a lager, an amber ale and an IPA. The tap room will be open 7 days a week and offer beer-to-go in growlers.
The brewery takes its name from a climbing wild rose (rosa canina) which can be found in Florida. Lore has it that the roots have medicinal qualities that can soothe dog bites. Or, there's a story that the flower is the "dog" of the rose family. There's also that famous quote from Shakespeare's Romeo & Juliet.
Dog Rose Brewing is located at 77 Bridge Street, St. Augustine. The Lincolnville district is rich with history, having been settled after the Civil War. The area is home to the city's largest collection of Victorian-era residences, and it was listed in the National Register of Historic Places in 1988, according to the City of St. Augustine. Doug expressed his excitement to be a part of Lincolnville, and looks forward to giving the local residents a place to visit regularly.
Cheers,
Linda Johnson, Certified Cicerone®
Covering Florida's Beer Scene, and locally around Jacksonville and North Florida
(photos by Linda Johnson)
(For the full story, see http://www.brewnymph.com)