Linda Johnson is a BUZZ Contributing Writer and founder of the beer and travel website, BrewNymph.com, covering all things Florida beer. She is the first female Certified Cicerone® in the Jax area.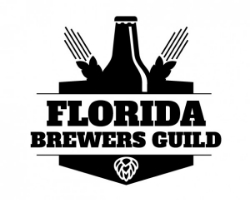 The Florida Brewers Guild presents its inaugural Florida Brewers Conference in Orlando, August 7-9. The Conference, which is slated to become an annual event, features educational and networking opportunities for those in or following the craft beer industry. A number of speakers are lined up to present discussions on numerous areas of interest, from business operations and legal issues to brewing techniques to marketing.
Several presenters are known nationally and worldwide in the trade. Garrett Oliver, of Brooklyn Brewery and Editor of The Oxford Companion to Beer, will deliver the opening keynote address on Tuesday morning.  Bart Watson, Economist for the Brewers Association, will discuss statistics relating to breweries and beer. Jim Koch, founder of Boston Beer Company (Samuel Adams Beer), will relate his experiences and insights into craft beer and the industry. Joey Redner, founder of Cigar City Brewing, will discuss learning from mistakes. The event is divided into a number of breakout sessions and general presentations over two days, with a brewery event at Crooked Can Brewing in Winter Garden. FBG Executive Staff (Sean Nordquist, Executive Director; Kent Bailey, President; and Josh Aubuchon, General Counsel and lobbyist) will enlighten the attendees with a State of the Guild address.
The stated mission of the FBG is to "educate the public about the brewing industry in Florida; promote networking and educational opportunities between brewers, consumers, suppliers, and government regulatory agencies; and continually promote free market access of the Florida brewing industry to the public."
Membership in the Florida Brewers Guild is open to breweries, distributors, retailers, and allied trade partners. The FBG also presents an annual beer festival in Tampa in March (see prior story).  Tickets to the Florida Brewers Conference are sold out.
Cheers!
Linda Johnson, Certified Cicerone®
Covering Florida's beer scene, and locally around Jacksonville/North Florida