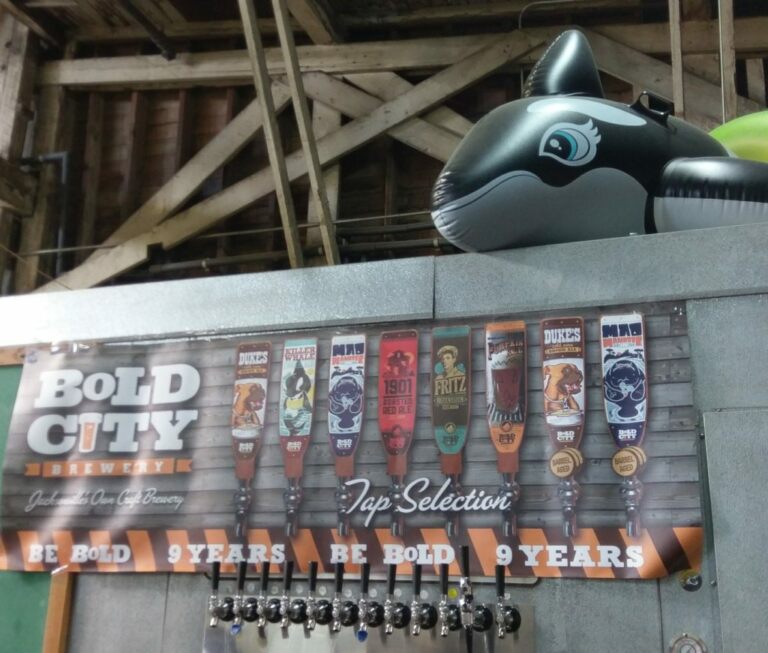 Fall is in the air, and pumpkins are everywhere! Halloween is creeping in. The Jacksonville area craft beer scene has it all this coming weekend, from Thursday through Saturday, October 18-20.  The weekend also features two local brewery anniversaries. There's something for everyone!
Really Good Beer Stop, Jax Beach, celebrates its third anniversary all week, with special beer tappings.
Thursday: Annual Pumpkinpalooza at Engine 15 Brewing, Jax Beach. If you like pumpkin beers, this is for you! The event features a collection of pumpkin beers, including a house-brewed Engine 15 Cinotti's Pumpkin Donut Ale. The night also features pumpkin food specials.
Saturday's lineup of local beer events has things covered on all ends of town!
Bold City Brewery marks its TENTH year with a big anniversary bash at the Rosselle brewery. Where else can you get $2 pints? The Bold City Brewery family knows how to throw a party. Well, they're been doing it for a while! Music by Bold City Bandits, Ginger Beard Man, and Firewater Tent Revival. Raffles for free beer for a year and growler refills. They'll also release Bourbon Duke's Brown Ale, also for $2 per glass. And, there's a special commemorative giveaway planned. Congrats to the Miller family on 10 bold years!
Dog Rose Brewing, St. Augustine, celebrates its first year with an anniversary party. Leading up to the big day is a special offer: $10 growler refills all week. The party features new beer releases, a pig roast, photo booth, music.
Wicked Barley Brewing hosts its annual WickedWeen costume party. Wear a costume, and enjoy beer releases and food specials at this Halloween-themed family-friendly event. The day also includes the release of the brewery's Eradicator Double IPA in double-sized cans.
Tabula Rasa Brewing releases a new beer, its Crazy Mona Coconut Porter. The day also features pumpkin carving (bring your own carving tools), a food truck, and outdoor games in the beer garden. At dusk, savor some S'Mores.
Main & Six Brewing taps its Porch Juice New England Session IPA, originally brewed for Jacksonville PorchFest (which, by the way, happens this year on November 3).
Engine 15 Downtown (Myrtle St.) hosts a pumpkin-carving contest from 4-6pm.
Be sure to check out these events, additional local events, and roadtrip, beertrip, and beerfest events around the state on brewnymph.com!
Cheers to the weekend!
Linda Johnson, Certified Cicerone®
(cover photo by Linda Johnson: Bold City Brewery 9th anniversary, 2017)
Linda Johnson is a BUZZ Contributing Writer (beer!) and founder of the beer and travel website, BrewNymph.com, covering all things Florida beer from news to events. She is the first female Level 2 Certified Cicerone® in the Jax area (since 2015), one of seven in the metro area, and the only Level 2-certified independent beer writer in the state.