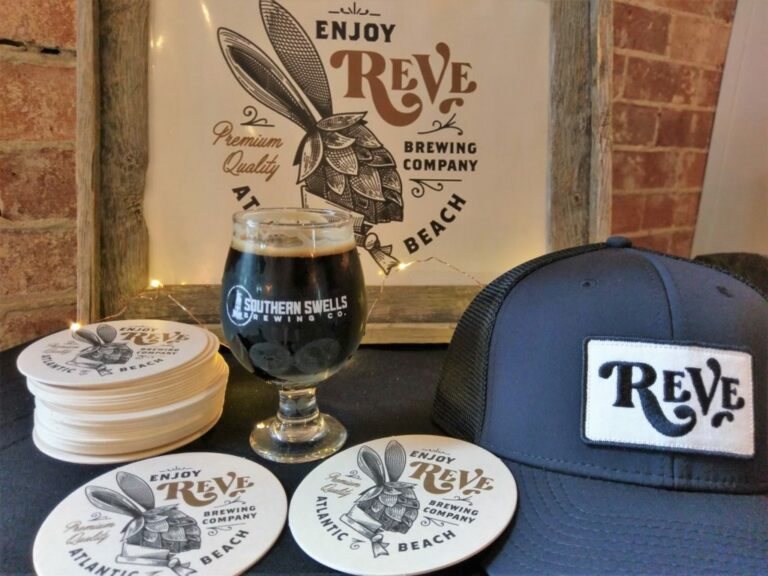 Last December, word of another brewery entering the Jacksonville area circulated around town. After having been in the works for over a year, the day has arrived for Eric Luman (co-owner of Green Room Brewing in Jax Beach) and wife Vanessa, as they open the doors and welcome the public to the new Reve Brewing, 1237 Mayport Rd., Atlantic Beach, on September 22, at 2pm.
Leading up to the opening day, Eric visited several area breweries, including Aardwolf Brewing and Southern Swells Brewing, and co-brewed several "collab" beers. The collaboration with Aardwolf is a dry hopped Brett Pale Ale with lemon and orange peel. An earlier collaboration with Southern Swells produced "Reved Up," an imperial stout with Bold Bean La Loma Coffee, vanilla beans and cinnamon. Southern Swells hosted a release party for "Reved Up" in early August, and from the comments, attendees wholeheartedly approved! (see cover photo).
Expected house beers on tap for Opening Day (subject to change) include: Hazy IPA; Hazy Double IPA; Hazy IPA fermented on passionfruit; Hazy IPA aged on local limes; Milk Stout with cinnamon and vanilla; Milk Stout with coffee (no surprise that there's a coffee stout here); Milk Stout with Coconut; Raspberry Berliner Weisse; Double Fruit Raspberry and Cherry Berliner Weisse; Boysenberry and Blueberry Sour; Pastry Sour with apricot, lactose and vanilla; and the above-mentioned Reved Up Imperial Stout.
Congratulations to Reve Brewing!
Cheers,
Linda Johnson, Certified Cicerone®
(cover photo by Linda Johnson)
(adapted from article published on http://www.brewnymph.com)
Linda Johnson is a BUZZ Contributing Writer (beer!) and founder of the beer and travel website, BrewNymph.com, covering all things Florida beer from news to events. She is the first female Level 2 Certified Cicerone® in the Jax area (since 2015), one of seven in the metro area, and the only Level 2-certified independent beer writer in the state.