What a year it's been for Wicked Barley Brewing Company! The brewpub on the banks of Goodby's Creek opened last July after building the brewery from the ground up. Although the tap room served all guest beers when it opened, the brewery's own house beers and mead made their way to the menu and are now consistently available.  Earlier in the year, Wicked Barley took home the medal for Best Brewpub at the Best Florida Beer Championships, along with several individual medals for beer and mead. Just last month, the brewery held its first bottle release, the Isolated Incident Barrel-Aged Imperial Stout.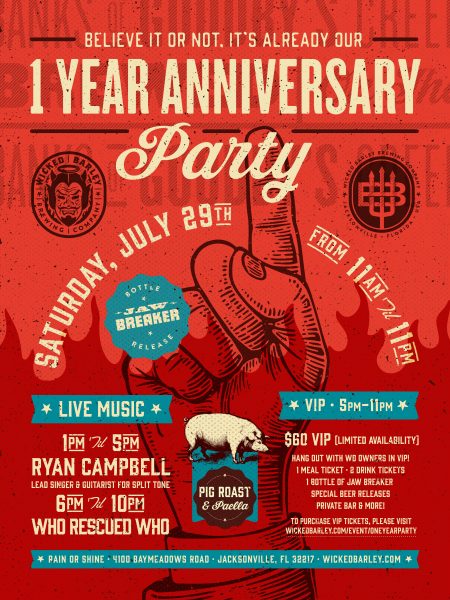 On Saturday, July 29, Wicked Barley celebrates its First Anniversary with an all-day party and its second bottle release, starting at 11am. First things first: the first 50 people who enter will receive one free beer in the beer garden.  The brewery will sell bottles of its new Jaw Breaker Imperial  IPA (11 %ABV) for $20 each (cash only, no limit). Like the first bottle release, there's also a story with the second one: two of the brewers broke their jaws around the same time, so it became the inspiration for this beer.
The festivities will include live music by Ryan Campbell from Split Tone from 1-5pm, followed by Who Rescued Who from 6-10pm. While the dining room will offer a limited menu, there will be a pig roast in the beer garden.  Several yard games will also be set up, including Mega Connect Four, Giant Beer Pong, and Inflatable Darts, provided by Jax Play Day. For those who live in Jacksonville Beach, round-trip transportation via shuttle bus will be provided by Jax Brew Bus for $15. To reserve a seat, contact Mike at Jax Brew Bus at (904) 500-2739.
There is no entry fee to attend the Anniversary Party. However, for anyone looking for a behind-the-scenes brewery experience, Wicked Barley offers a VIP package from 5-11pm, which includes a party with the brewery owners, a private brewery bar,  two drink tickets,  one meal ticket, a bottle of the Imperial IPA, and several special beer releases. The VIP ticket ($60) may be purchased ahead of time online.
Congratulations to Wicked Barley Brewing Company!
Wicked Barley Brewing Company is located at 4100 Baymeadows Road, Jacksonville.
For various stories about Wicked Barley, from construction, opening day, tapping of house beers, awards at the Best Florida Beer Championship, and brewing a beer made with all-Florida-grown hops, please see http://www.brewnymph.com.
Cheers!
Linda Johnson, Certified Cicerone®
Covering Florida's Beer Scene, and locally in Jacksonville/North Florida
(cover photo by Linda Johnson)