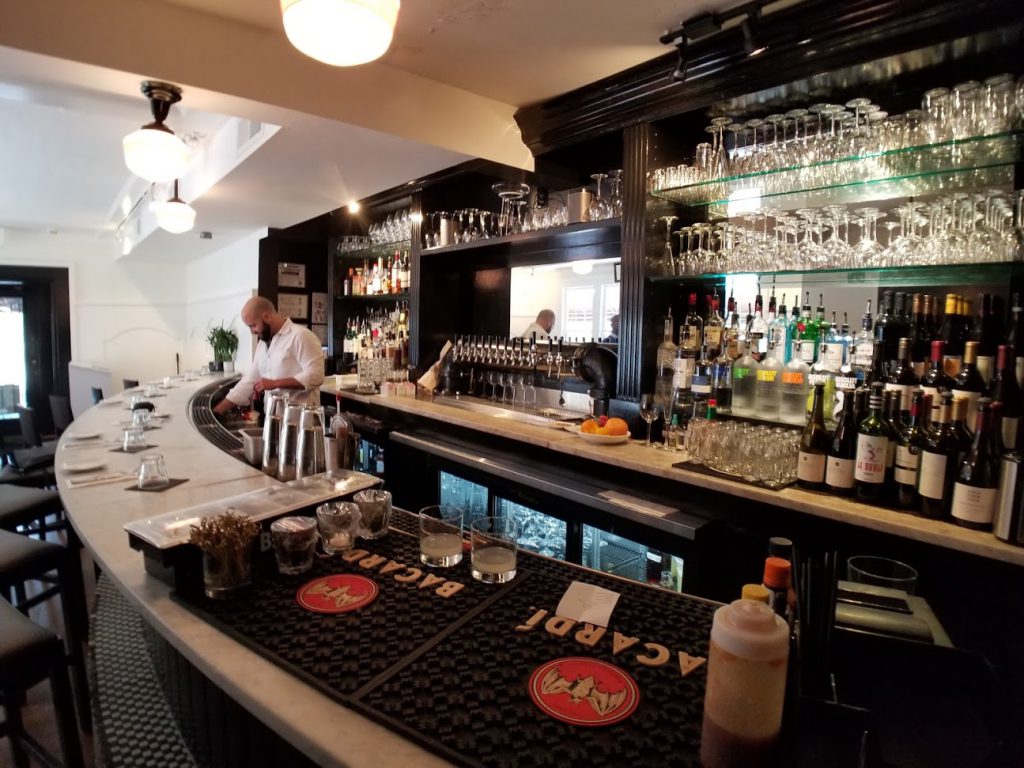 Written by Anna Heise @annaeatzjax.com
Recently I had the pleasure of interviewing Richard Bailys of Five Points Tavern in the Riverside area of Jacksonville, Fl. Richie talked about bar life and how the Tavern has quickly become the go-to place for locals interested in some top-tier food and drink. A comfortable, renovated old house welcomes all visitors who are seeking a fantastic dining experience or a fun craft cocktail on the patio.
What is unique about your bar area?
We have the outside bar patio area and an inside bar–food service is available in both areas. What I believe makes us unique and sets us apart is the service and dedication of the team.  Five Points Tavern is a family run operation, so working with the owners, I feel a part of that family. We strive to extend that feel out to our guests, making every effort to create an atmosphere of comfort whether they are having dinner with us or just stopping in for a cocktail. I know the names of all my regulars and what they prefer to drink. My customers have told me how much that is appreciated.
When is Happy Hour?
It indeed is a Happy Hour, starting at 5 p.m. when we open and running until 6 p.m. That includes $4 house spirits, draft beer and house wines.
Tell us about your best-selling drink.
The Margaret Street is way up there, and the Hot Lolita–two very different drinks. The Margaret Street is fresh, crisp and especially tasty this time of year, almost on the savory side where the Hot Lolita is spicy, tangy a little sweet; opposite drinks similar attention.
Do you serve any local spirits or brews?
We do have some in-house spirits from Manifest Distillery and our local brew includes Engine 15 J'ville Lager that is a light lager and Bold City Killer Whale Cream Ale. We also have two rotating taps in keeping with the seasonal brews.
Who creates the craft cocktails for the bar?
It's collaboration between the owners and bartenders.  If we have ideas we kick them around then do some taste testing. We are currently working on drinks for the spring.
What compliments do you hear most often from your customers?
If directed at me, it is all about the drinks. But in general, it's all about the food. Every dish I have sampled and recipes I have sold, our patrons are well pleased by the quality and composition.
What is the busiest night of the week?  
It is a toss-up between Friday and Saturday, but we also have experienced some full house Thursdays. Much of it depends on the weather–5 Points is a walking area, and many of our patrons walk to dine with us.
What do you want more people to know about your business?  
When you walk by now with the addition of our patio furniture, it is eye appealing and welcoming. It's an old house, a bit unassuming and, like everything else in life, don't judge a book by its cover. We believe we are a hidden gem here in 5 Points, and Jacksonville in general. The food speaks for itself: made with the freshest ingredients available, drinks well thought out, service top notch. We do everything possible to make our guests feel at home.
Recipe: The Margaret Street
In a large mixing glass:
4 to 5 pieces of cucumber
1 full sprig of rosemary
½ oz. Lemon juice
½ oz. simple syrup
Muddle together then add:
1oz. Hendricks Gin
1oz. Elderflower liqueur
Top the glass off with ice and shake.
Pour into a deep footed glass top with additional add a little bit of bubbly; we use Grandial Blanc de Blanc.