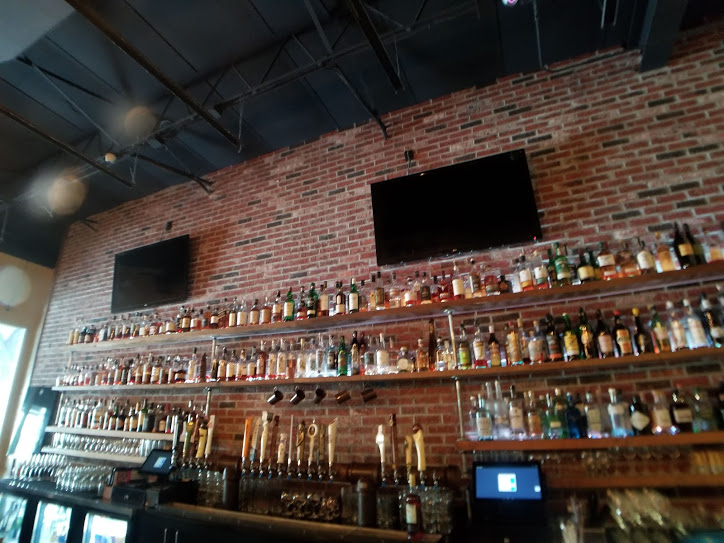 Michael Bloom, aka @bartenderbloom, has been on my radar for quite some time. Michael is the guy you want behind the bar; he has a knack for reading his customers and is on point no matter what mood you find yourself, humorous,  and serious all at the same time; oh and let me mention makes some killer craft cocktails.  Ask for what you want, and Michael can make it happen. Currently, behind the bar at Sidecar Jax, one of Jax hidden gems this beer garden and cocktail lounge in the heart of San Marco should not be overlooked.  I stopped in for a chat and of course one of his special bevies.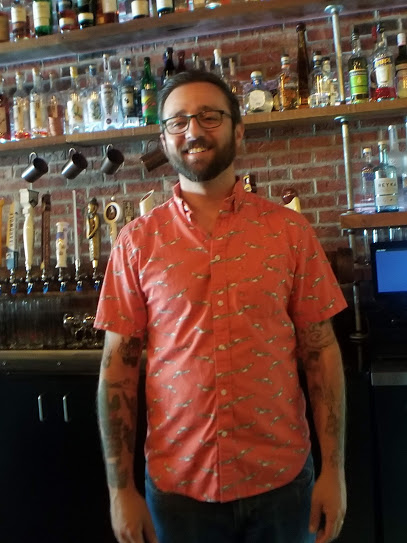 How long have you been ten tending bar?
I have been tending bar for about ten years.
How many bartending jobs have you had? Where was your first job?
The bulk of my jobs have been in Jacksonville. I did start in Chicago; it was nothing like this and not a craft cocktail bar.  I was my first foray into bartending, with lots of frozen drinks, tap beer, wine and cocktails and things like that. When I moved to Jacksonville, I got a job at Black Sheep in 2012 where it trained under Kurt Rodgers and Matt Carson.
What turns you on about bartending?
I believe it's a combination of things, obviously for someone who likes to be under pressure in the work environment, doing a lot of stuff at once pumping out cocktails and then there is the learning side of the job. There is always something to educate yourself on; with new development and styles of drinks, which gives me something to focus on while honing my craft.
How do you feel about the term "Mixologist"? Do you consider yourself one?
Hum, just a bartended for sure. I'm not sure what the definition of Mixologist would be, I think it's something used more in the pop culture by writers and people who talk about bartending than actual bartenders. I'm sure there is a place for it, we make drinks here. Our focus is to make the best drink possible to our clients.
What do you enjoy most about  Side Car?
The staff is small only 9 or 10 of us including the owners, who also tend bar as well. Side Car is like family we all enjoy working together. The concept is also unique, we have a walk through to V Pizza, so grab your drink and go back to eat your pizza.
What were you going for when you created the cocktail list?
The current cocktail list was revamped about two weeks before I came on board, so there were no contributions from me, but we are working on a new menu, so I hope to have a few on that. Building the list is a team effort, so everyone has the chance to have a cocktail featured. As for the vibe, there is usually a theme for sure, but one wants to be sure all the categories are covered. You have to have at least one or two of vodka, bourbon, gin with a few tequila and rum drinks.  We also have many cocktails that use multiple liquors, with our syrups and infusions. The aim is to make sure there is something on the menu for everyone.
What are your favorite cocktails to make, and why?
I still,l love making the "Tiki" drinks; I fell in love with them when I was working at Flask and Cannon, and that has not left me. You could say it's a little easier to please people with them; they know what it's going to be; sweet and strong but a lot to play with.
What spirit is the sexiest to you?
I think if you can make a mescal or tequila drink outside the 2 or 3 that everyone has already had, it's enjoyable when you can please the customer. Gin is also a nice spirt to work with you can make a nice, well-balanced cocktail it's very unassuming that is also bartenders favorite.
For you what spirit is the most versatile?
I would have to say gin I think you can do a lot with it, there a so many types of gin; dry, sweet gin, botanical, you can cover it up for someone who does not want to have that gin taste, or you can push it to the forefront of the drink.
What do you think sets your drinks apart from the others?
That's a tough question; I don't know that they are apart from other peoples. I pull from many people who have been doing this much longer than I have. I try and keep them simple for sure, use the least amount of ingredients as possible for what I am trying to think of, which is difficult with Tiki drinks. I like to stick with the Mescal or Rum in my head before I go to a Whisky or Gin.
If I asked you to make me a cocktail with no limitations, what pops into your head?
A Daiquiri all day, maybe without rum perhaps with mescal or any other sprit; it exists already in so many versions. If you don't like a Daiquiri, I don't know how much I can help you.
In the end, Michael did not make me the  Daiquiri but crafted me a new cocktail that is still in the works thus no name.  I will happily be a taste tester for this guy any day.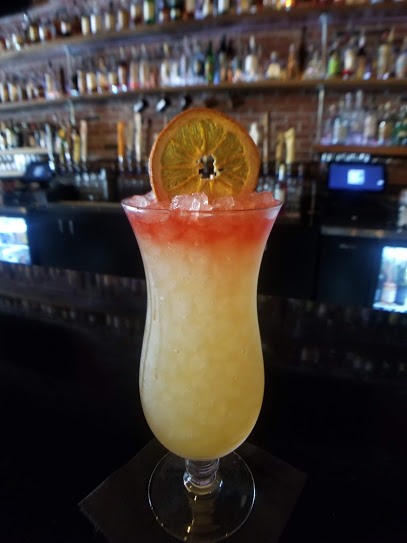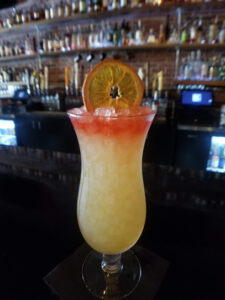 Recipe:
1oz. Stiggins Pineapple Rum
1 oz. Aalborg Aquvit
¾ oz. Lemon Juice
½ oz. Strawberry Syrup
1/2oz. Pineapple juice
Several dashes of Jamaican bitters
Dash of Peychaud's Bitters
This drink was nothing like I remembered "Tiki" drinks being.  Sweet but not in that unsavory way many fruit drinks can be. I think the addition of the Aquavit with caraway as its dominant spice made the difference from sweet to savory. If you have not made it to Sidecar in San Marco, I highly recommend a visit.