Nested in San Marco between Hendricks and San Marco Blvd sits Rue Saint Marc, one of Jacksonville's trendiest food and cocktail stops. Partner, bar manager, bartender or "Bar Chef " as she was dubbed; Gabrielle Saul holds it all together.  With an impressive list of craft cocktails with her name on them, I had to know more about this woman.  She was gracious and inviting during my visit, here are her thoughts.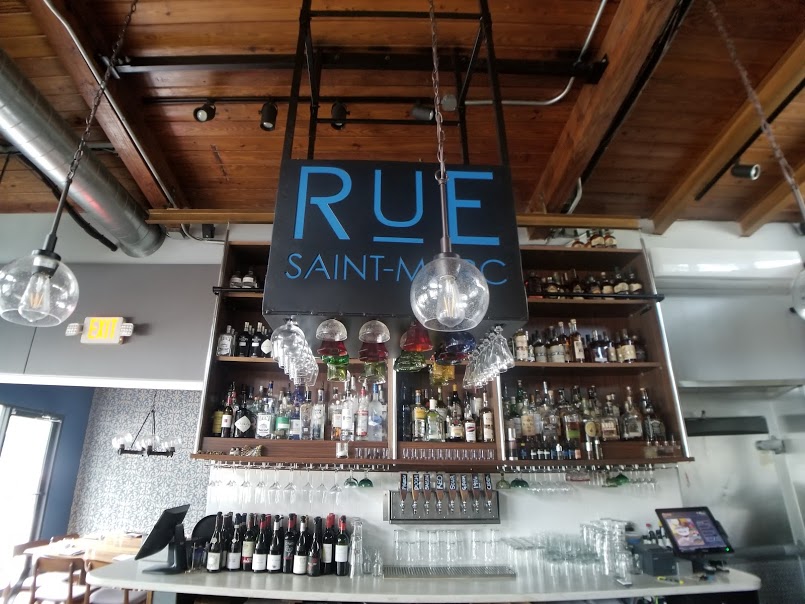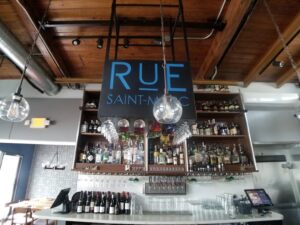 How long have you been tending bar and how old are you?
Since 2006 so it's been twelve years, I just turned 30 in May.
Where was your first job?
My first job was at Sun Dog Diner in Neptune Beach; I work there for six years.
What excites you about bartending?
The customers, and how excited they get when they ask me to create new drinks for them. Then seeing the satisfaction once they taste the drink and realize it hits every aspect of their palate. Almost the same as a Chef when they create a dish that entirely satisfies the customer.
How do you feel about the term "Mixologist"? Do you consider yourself one?
I feel it makes one sound like a scientist; there is not any science going on behind the bar here. However, you need a good palate to have the ability to balance drinks.  So I prefer bartender, but I do have an article written about me where I was called a "bar chef".
What do you enjoy most about Rue Saint Marc
I get to do whatever I want, it's my world. There is no one holding me back, I get to bring in the products that I am passionate about.  Plus I carry many items not available in other bars in an attempt to take people out of their comfort zone so that they can sample something new.
 What were you going for when you created the cocktail list? What is your favorite?
I wanted to go big and create one of the most extensive cocktail programs in town.  We do not have a big bar yet we offer over 50 crafts on the menu.  We have hand-carved ice cubes, in an attempt to take crafting to a new higher level, with the entire homemade products and tinctures that I do plus the garnishes. Chefs use the term "eat with your eyes first," you should drink with your eyes first as well.  I like to think my drinks are aesthetically pleasing. I'm big on garnishes, the bartenders know my standards; we imagine each cocktail will be a Facebook or Instagram post. Every drink should be picture worthy. Consistency is the key to everything behind the bar.
What are your favorite cocktails to make, and why?
I think one of my favorites and a best seller is the Peter Piper, I did not expect to get so much success with this drink, we did review of the top ten cocktails for the last six months and this particular drink ranked at number two. On another note the Pain Killer, I know it's a classic cocktail, but I make my own Crème de Coconut and Orgeat, an almond liqueur.
What spirit is the sexiest to you?  Why?
I am rum fan, especially aged rum; it is so versatile.  It can be used with citrus to create a refreshing cocktail, as a spirit drink, many people do Old Fashioned with rum, and I call it my camping whiskey, you can drink it right out of the bottle easy to sip, smooth.
What do you think sets your drinks apart from the others?
We pretty much covered that, the handmade products, consistency across the board, garnishing and picture worthy drinks every time. There is one ingredient that other bar may use called pineapple gomme syrup. I make a roasted pineapple cordial here in house. I cook the pineapple for 2 ½ hours in the oven cube and boil with sugar and water then strain, cooking takes about two days. This cordial is my replacement, it will not make the drink taste like pineapple but certainly brightens up the flavor of the cocktail.
 If I asked you to make me a cocktail with no limitations, what pops into your head?
I would ask a few questions first; do you want something straight spirit or perhaps something with citrus juice in it?  Do you have a preference in mind?  Are there some you like and some not so much? I answered but never mentioned Tequila, and true to form she was going to challenge me, it was a total mind changer about a spirit I seldom drink.
Matador:
0.75 oz. Reposado Tequila
0.75 oz. Red Bull Pepper Juice
0.75 oz. Roasted Pineapple Cordial
0.75 oz. Ancho Chili Liqueur
0.75 oz. Lime
Chipotle Rim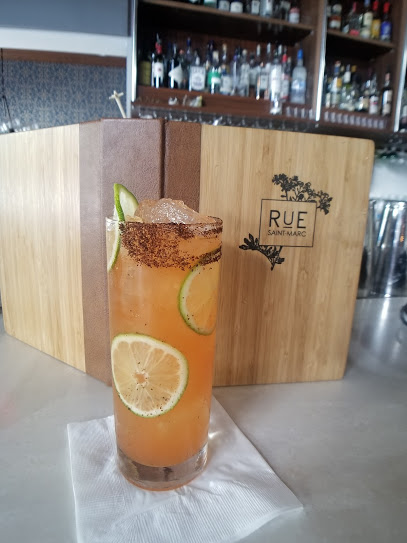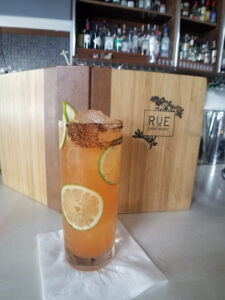 Mix all ingredients over ice; shake well, strain into a tall Chipotle rimmed glass, dress with thinly sliced lime.
Certainly a picture worthy drink and every bit as good as it looked. Please make a plan to visit soon if this top-notch establishment is not on your list.