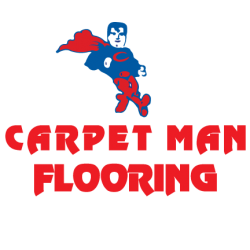 Redoing your home's floor can be a stressful process, both planning before and during the process. It's important to know the risks, tips and best companies to help through this renovation.
If they're a health risk:
Carpet can harbor mold, dirt and allergens, even with regular heavy cleaning. If your carpets are old or if you discover mold in your home, it may be time to replace the carpet.
Pro Tip: Switch to hardwood or tile floors to eliminate the worry of mold and allergens held in carpet.
If your floor is damaged beyond repair:
Individual hardwood planks or tiles can often be replaced, but if your experiencing mass warping of hardwood floors, have irremovable stains or dented laminate flooring you may need to replace the entire floor.
Pro Tip: Engineered wooden floors cannot be refinished. If your engineered wooden floors are looking rough, you'll need to replace the whole flooring.
If you're selling your house:
Updating the flooring in your home can help increase the value of your home while making it look a lot better. Still have laminate flooring form the '70s? Replace it with tile or hardwood for a stylish new look.
Pro Tip: Choosing hardwood floor options instead of carpet can greatly reduce allergens in your home, which can be a great selling point for your home.
How do I make the best decision to replace my flooring?
First, consider the climate and use of the flooring area you want to update. Lower level floors and basements are more susceptible to humidity, making tiling or laminate preferable to wood. And while carpet would be a good choice for a child's playroom, hardwood floors better suit entryways and hallways that get a lot of foot traffic.
Most importantly, hire a flooring expert your trust. With two locations in Jacksonville, Carpet Man Flooring is a top choice for hardwood, tile, laminate, vinyl, wholesale carpet and area rugs.
As one of the largest manufacturers of flooring in the world, Carpet Man offers a high quality selection right here in Jacksonville.  Buy directly from them to install yourself, or let them do the work for you!
Visit https://www.carpetman.biz/ for more information or stop by their warehouse at either location. Whatever your taste, Carpet Man Flooring has what you need to express your personality in your home or office.