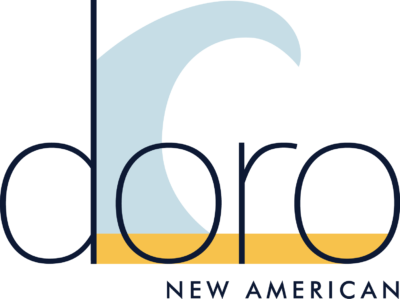 By Anna Eatz Jax
The first time I walked into Doro, it was like going back in time to summers spent on the New England coast. Bright, blue and white interior, seascapes, micro greens resting on the window sills, all set the stage for the incredible food yet to follow.  Chef Christopher Polidoro was most generous with his time to tell me his story.
Tell us about yourself.
I grew up in Queens, one of the boroughs in NYC, spent some time in Manhattan and Brooklyn, but I spent most of my youth on the east end of Long Island, Montauk, Hamptons, and Sag Harbor. When I was a kid I played around in the kitchen with my mom, we always had home cooked meals, so I had an early start.  Then when I was in high school, I washed dishes, as well as food prep work and went from there.
What brought you to Atlantic Beach?
We wanted a lifestyle change; we had lived in New York for forty-two years, the only place I have ever lived.  We were tired of the winters, especially out on the East End; after Labor Day everything shuts down followed by the long cold winters with cold water.  We looked along the eastern seaboard, and everyone has a winter except Florida. Central Florida is still a lot of chain restaurants, and "Blue Plate" specials and South  Florida remains seasonal. I have family in Ormond Beach, so we came to check out St Augustine.  I had been there about eighteen years ago and had my opinions about it but wanted to see if anything had changed.  We were staying in Ponte Vedra, and everyone we spoke with steered us away from St Augustine and suggested we check out Jacksonville, Atlantic or Neptune Beach opportunities. We spent about four days and found people here would support new restaurants, and there is a growing food scene here, and that's how it happened. Getting this spot at Atlantic Beach was just luck. The previous owner was retiring, and an acquaintance of mine gave me heads up about the location opening up. It just happened.
How long have you been cooking professionally?
From post-graduation in 1993 to now, it's about twenty-four years.
Where did you train to cook?
I attended the Culinary Institute of America in Hyde Park NY from 1991 to 1993.
How would you explain your style of cooking?
I'm not a big fusion fan, I have never been I just feel things get a bit messy. I did work for a Japanese Chef-owner for three years, where I grew up in Queens there was an enormous Japanese population, and their culture was always intriguing to me. When I first started out, I was really into detailed plate presentation, and then after dining in those places several times, it came down to just food, so now my approach is keeping things very simple, clean and light.  There is not a lot of butter or cream; I don't like to eat that way and feel awful at the end of a meal.  I always want to desire one more bite. So I try and do that, put one less bite on the plate, smaller portions, not stacked barbarian style plates. So there is an intricate presentation, but everything is straightforward.
Do you have a signature dish or a favorite dish you enjoy cooking
We do have a few signature dishes, I have tried to change them, and the sales went down, so I went back to the original plate and sales soared.  Those dishes are the Pork Schnitzel one of our appetizers and our Grilled Snapper entrée.
How long did it take you to develop the menu?
I procrastinated writing the menu up to the very end. I wrote one the week before we opened, I wanted to make is special and not just throw things on there. So the first menu was important to us.
What makes Doro special?
If you see the counter seats there, we do not reserve them, but people want to book them they like being up there, they get to see everything going on.  The cold appetizers come out up there, and people talk with us as we get them prepared. I do things a little different to the area; people don't have to go to Riverside or Five Points.  We are doing something different than the typical beach fare.  Most all food is grilled, sautéed or pan roasted, not fried.
What can you recommend for someone new to your restaurant?
We sell a lot of land food, duck, lamb several meat options.  But I would have to say for seafood the Crudo, with a Japanese influence, it stimulates every texture, taste bud that you have. And then the Seared Sea Scallops
Who is your ideal customer?"
What every restaurant owner wants; someone who comes back and does not complain. We have a great group of regulars who seem to rotate, we see them for a while, and then they disappear, but always come back.
What's your favorite thing about the neighborhood?
The beach! The entire vibe of the area, look at me in shorts and flip-flops. We are beach people.
Death Row Meal and who is cooking it?
Chef Alain Ducasse and I will eat anything he cooks.  But now that I think about it, I would want to cook the meal myself.  To me, the cooking part is more pleasurable than the eating part.