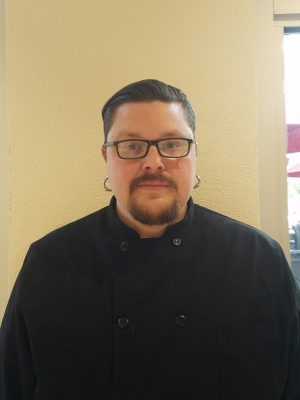 By Anna Eatz Jax
Chefs often cook in  unusual settings; such is the case with Chef Jonathan Dwelle Executive Chef at Cummer Museum Art and Gardens.  He took the time to share his story with me.
 Tell us a little bit about yourself?
 I was born in Jacksonville but raised in Keystone Heights. I moved back to Jacksonville sixteen years ago. I attended school in Gainesville then spent some time in South Georgia.  My first job was in a small pizza shop in Keystone Heights. I did not work in kitchens again until I moved back to Jacksonville, where I cooked at Casa Dora downtown.  After that, I moved to Mossfire Grill where I stayed for thirteen years. That is where I really "cut my chops" and had the opportunity to step up.
How about your culinary training?
 I have no formal culinary training; working in kitchens is how I learned.
How long have you been cooking professionally?
 I have been cooking for about fifteen to sixteen years.
What inspires you? What is your philosophy when it comes to food and your restaurant? Where did you train to cook?
I am a huge fan of art and had a vision of owning a gallery at one time. Then I realized I could express myself through my food, and that pushed me in different directions.  Food starts out as a trade, but once you have the opportunity to create the ideas in your head and express that on a plate to share with people, it becomes an entirely different experience.
How would you explain your style of cooking?
I don't think I have a style. I do not come from traditional culinary training and have learned everything from other chefs.  I do believe it's easier now not to have a style. I think social media has contributed to this movement of chefs developing their techniques.
Do you have a signature dish or a favorite dish you enjoy cooking?
I love Ox Tail and cook it all the time, and play around with developing new dishes.
How do you come up with ideas for the dishes in your restaurant?
We are in the process of developing new recipes for our Tapas Tuesday menu. I am not great about conceptualizing dishes; I have to go into the pantry to see what is available, then smell or taste each item and see what will work to make a fantastic meal. It's a puzzle and great fun to create new dishes.
What do you most love about your job? 
A museum is a fascinating place. Along with the beautiful gardens, it set the backdrop for our food; I take my breaks in the garden. The fact that we are in a museum presents challenges; the kitchen is tiny, no open flames are allowed, so we use alternative methods. The problems are real, and I love it.
If you weren't cooking, what would you do for a living?
It would have to be something outdoors. I don't know, park ranger, a tour guide in the river.  When I am off my time is spent outdoors.  I grew up in the woods, and I miss it.
Tell us something about yourself that people would be surprised to know.
On a road trip, we found a quilt museum and I had to stop in and look.  Well, I fell in love with a piece that was very dark and macabre; not your grandmother's quilt. Well, I just had to have this, so now I am a quilt collector.