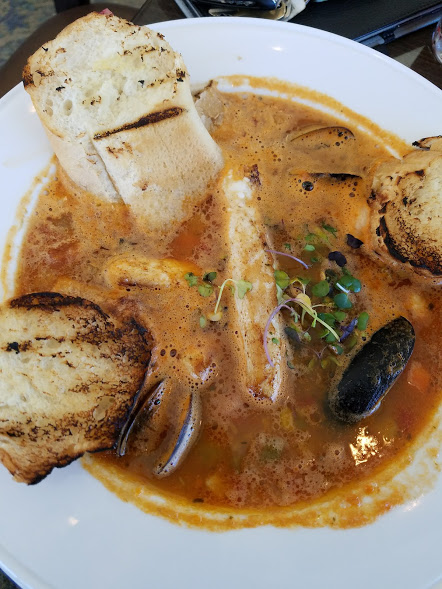 By Anna Eatz Jax
If it takes a village to raise a child, it takes a team to run a kitchen.  I have been blessed to reacquaint myself with Matty Gilligan at Seachasers Restaurant Jacksonville Beach.  Formally Chef Owner at 904 Restaurant, Matty's return to the culinary scene is well applauded by those of us who love his food.
Tell us a little bit about yourself.
I have been working in restaurants since I was seven years old. I helped my father do inventory, prep work and bused tables at night.  I fell in love with it; this is all I know.  I have held every position you can imagine in a restaurant except for host.  I have been an executive chef for the last nine years. I worked in the corporate world for many years but found I had no creative control over the menu, and that was how I wanted to spend my career.
What brought you to Jacksonville?
My brother was in the Navy and living in Atlantic Beach.  It was the middle of winter in Boston, so I made a move.  I love everything about the area and only go back to Boston occasionally.
How about your culinary training; Where did you train to cook?
I attended Endicott College in Boston; sadly, I was young and stupid, so my stay was short term.  I feel I have learned more from the chefs in my past.  I did get the basics at school, but I have learned from everyone I have worked with. Kitchen life is learning every day, it's amazing and thought the school could teach the basics, it's not until you start working in a kitchen that your real education takes hold.
How long have you been cooking professionally?
I have been in the kitchen for twenty-seven years, I did take a year off after my restaurant closed went on sabbatical and worked just to make money, but now I am back and loving it. Every day, the heat, the aromas, the dinner crush, everything works and keeps me driven.
What inspires you? What is your philosophy when it comes to food and your restaurant?
All the local products are available to us here in the restaurant. The abundance of fresh fish daily is mind-boggling, and we use our local purveyors to source for us several days a week.  It is also the same with the vegetables, so much grows right here in Florida, it's difficult not to be inspired by the abundance of product available. My philosophy; farm fresh food, simple, pop in your mouth flavors.
How would you explain your style of cooking?
I will cook any style if the flavors work. I am not stuck in any one cuisine; I like everything if the taste and flavors are there. Right now, I am fixated on the healthier style of comfort foods, crazy flavors but a nod to the old school.
Do you have a signature dish or a favorite dish you enjoy cooking?
Oh yes, the recipe is very labor intensive; pan seared snowy grouper, local heirloom tomatoes, Panzanella salad, with house-made glazed balsamic and crispy prosciutto chip on top.
 How do you come up with ideas for the dishes in your restaurant?
I do watch many food shows, I don't want to steal anyone's recipes, and get ideas on how I could expand on a dish. I have worked with chefs for many years and have learned how to create my dishes.  Additionally, there is always collaboration going on in the kitchen.
What do you most love about your job?
Being able to work with my executive chef, he knows my history, and trust me and lets me do my thing; he is an absolute warrior in the kitchen; I love him.
If you weren't cooking, what would you do for a living?
I know how to bartend, but that is not for me. I need to be in the kitchen creating.  I have no idea what I would do.
Who would be your "ideal customer"?
A person who appreciates good flavors and good food. It's difficult when you put out a good dish, and people have no idea what they are eating or understand the recipe. Or individuals who are afraid to try new foods.
Death row meal and who is cooking it for you?
Blackened Red Drum, garlic mashed potatoes, sautéed vegetables, a simple dish but perhaps on of the best I have ever eaten, cooked by Paul Prudhomme.