I was recently invited out to Clean Eatz by owner Tracy Watson, to check out the café.  As the name implies, the focus is on eating for a healthier lifestyle. Tracy a North Carolina transplant shared with me she has been a longtime advocate of healthy living and healthy eating. The co-founders of Clean Eatz were friends of hers as she was a corporate trainer for their Clean Eatz business. Wanting to branch out with her location she moved to Jacksonville and continued doing what she loves as a professional bodybuilding competitor. She found a spot in Orange Park which according to her was perfect since there is nothing similar in the area.
The store offers a variety of healthy food options for active people, from the housewife, soccer mom, office worker to the bodybuilder; anyone who lives a busy lifestyle but still want to eat well.  They take the pain out of preparing meals; there is something here for every lifestyle.  If you intend to lose, maintain or gain weight, there is a plan to suit your needs and can be modified individually for each person. The model that sets Clean Eatz apart from other meal prep companies they have a café, meal prep, grab and go, plus catering; all food is cooked and assembled on site. Currently, meals are picked up at the store location, but the plan for delivery is in the works and should be available within the next 30 days. Tracy also spoke of setting up satellite locations, such as gyms,  health food stores, or day spas.
Here are some of the  Clean Eatz I sampled;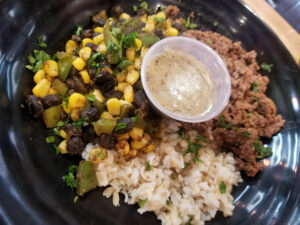 This custom bowl was chocked full of goodness; bison, brown rice and a vegetable medley of fresh sweet corn, black beans, and green peppers served with a homemade lime dressing. Well rounded and filling, calory count is dependant on bowl size.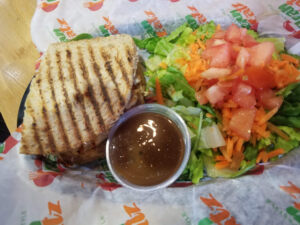 This Honey Mustard Chicken Panini at 380 calories made with chicken, turkey bacon, onions, spinach, tomato with honey mustard dressing. This Panini was a customer meal, and they were kind enough to allow me to take this pic.  According to them, the flavor is spot on, and a filling low calorie treat.
Tracy fixed me up with a to-go dessert snack these, decadent white chocolate coconut bars; a creamy, heavy coconut flavor hard to imagine as a healthy snack. I manage to devour them on the drive home; willpower is not one of my better qualities.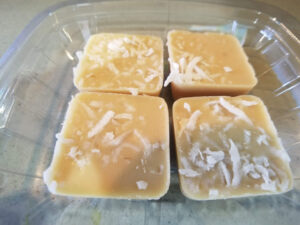 So if you're close to the Orange Park area and looking to improve your eating habits, stop in and say hi to Tracy, she is a powerhouse of a woman who not only talks the talk she walks the walk.