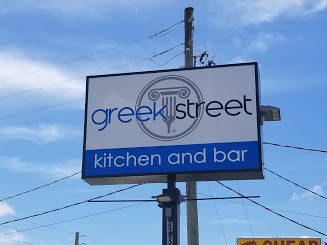 As a long- time fans of Greek Street Kitchen and Bar, my friend and I made the trip for the best Greek food in town.  As always owner Peter Vorrias and his sister and head chef Eva La Rosa were at the helm doing what they do best.  Recently nominated best Greek Restaurant in Jacksonville, once you dine there well the food tells the story. The space on University Blvd. is roomy and well put together.  The look is not old Greece but Greece as it is today; a modern city alive with commerce and tourism. Updated artwork adorned the walls and reclaimed wood has been used to make the booths. Lighting strung around the ceiling adds to the authentic look and feel of the Greek Taverna.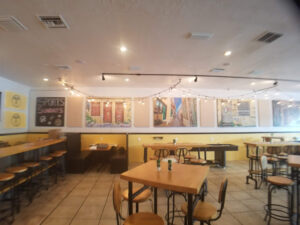 While you will still find your classic Greek dishes such as; Pastitsio, Moussaka, and Dolmades on the menu, it has been updated to include Flatbreads, Pita, and Burgers. The longtime family recipes are still used with a  more modern look and feel without compromising flavor or quality.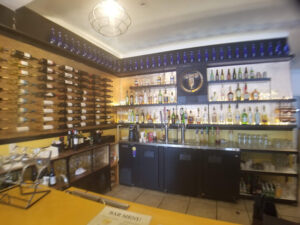 Here is what we chose during our visit. First up the Taverna Special a choice of 2 spreads and 2 small plates. We decided on the Greek Street Spread (feta and roasted peppers), Eggplant Spread, Veggie Keftedes, and Spanakopita; accompanied by soft, warm pita bread. We delighted in the flavors of the Eggplant Spread, and the crust for the Spanakopita was rich and flaky with a tasty spinach filling.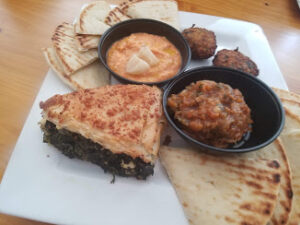 Taverna Special
My friend who is opting to eat vegan, chose the Vegan Gyro, with Zen Butcher gyro meat with hummus and a side of Aegean Slaw. I have tasted Zen Butcher products and have been pleased with everything they produce.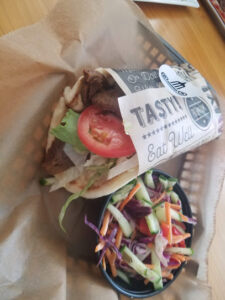 Vegan Gyro with Aegean Salad 
Not opting to eat vegan my choice the special of the day a Greek Sausage Flatbread.  Homemade dough was the base, covered in a vibrant red sauce and liberally dotted with tasty Greek sausage and topped with cheese. The bread soft and sweet with crisp edges a pure delight.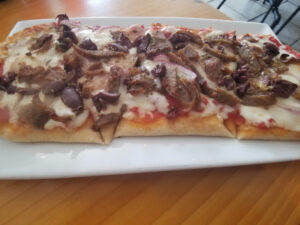 Greek Sausage Flatbread
We highly recommend this spot, everything about it is authentic, Peter and Eva are the perfect hosts and hostess and welcome everyone to come and enjoy.