Written by Anna Heise @annaeatzjax.com
After a long drought, Dim Sum restaurants are popping up in Jacksonville like flowers after the rain. The latest entry is Pho Dimsum, formally a Thai restaurant in the Baymeadows area of town. Many of the same staff is still there, so I found service a seamless experience.  The decor is sparse yet neat and clean if you're looking for carts to be rolling up and down the aisles, please return on the weekend; Dim Sum is menu only during the week.
After looking at the offerings, I selected a few of my favorite items one of them being the Soup Dumpling.  I have not seen these on any Dim Sum menu in town. Let's look at that one first.  The Soup Dumpling is one of the more delicate dumplings to make, and possibly why it is in low abundance. This particular order of dumplings certainly ranks up there as some of the best I have ever tasted. Flavorful little bags, the stuffing bathed in beautiful broth covered by a tender dumpling skin, perfectly formed, accompanied with a ramekin of red vinegar. The recipient of this dish may choose to pour some of the liquid over the top before biting into this magic little morsel. I have eaten these served with a straw so you can pierce the skin and suck out the broth before enjoying the stuffing. I indeed preferred this method.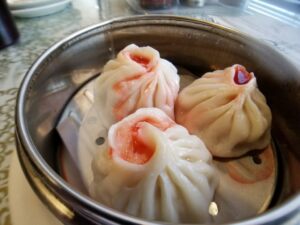 The next to arrive the Steamed Rice Noodle with BBQ Pork. Usually the most savory of the rice noodle dishes this came in somewhat flat with minimal flavor in the Pork, the rice noodles and sauce made up for some of the blandness.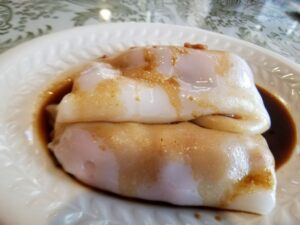 No Dim Sum meal would be complete for me without an order of Shrimp Balls the chef redeemed himself here; three wonderfully browned, crispy, and oh so very moist inside the sweet shrimp stuffing did not require any additive to make this a tasty dish.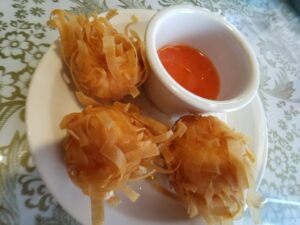 The Leek Dumplings again hit the mark; fried dumpling stuffed with tender leeks fronds and whites was so very flavorful with no hint of bitterness. Well browned dumpling skin moist and delicious.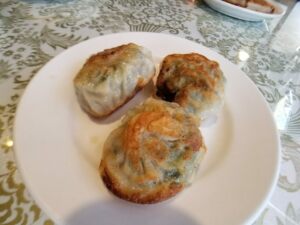 I should have stopped there, but one more plate I needed to try was the fried Turnip Cakes: a bit light on flavor, but crispy and not overloaded with oil as I have experienced on other occasions. I added a bit of spicy oil to kick it up a bit.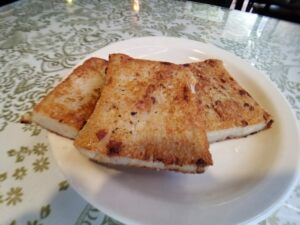 Overall I would give my experience a "Let's go back and eat again' vote I love Dim Sum with all its many variations and flavors.  If you have never indulged in this Asian treat, I highly recommend a trip to this restaurant.