'A Simple Show' Opening Art Exhibit
May 3 @ 6:00 pm

-

8:00 pm

Free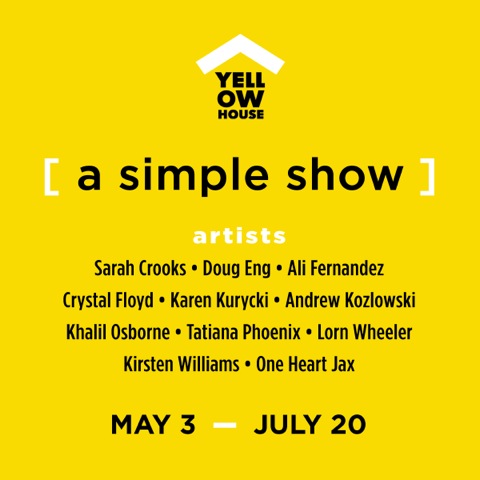 A Simple Show amplifies art that reminds us of the power of seemingly simple moments that provide comfort, respite, space, and a bit of joy during chaotic times
A Simple Show Art Exhibition at Yellow House | 577 King Street | Jacksonville, FL
Opening Night: May 3, 6-8pm | FREE
Run of Show: May 4-July 20
Exhibition Description
A Simple Show highlights artwork and poetry that draw on contentment, comfort, nostalgia, self-preservation, and the need to connect to one another and the world around us…in seemingly simple ways. A Simple Show seeks to provide a restorative breath in a world that is deeply chaotic. It's about moving from the complex to the modest and finding tenderness in the shadows. Not in an attempt to negate the reality
around us, but to energize us to face our collective challenges.
The artistic expressions in A Simple Show provide glimpses into the power of simple pleasures, the importance of the pause, and the potential found in the mundane acts, objects, and places of daily life…human touch, sunlight, a favorite food, bubbles, hands in the dirt, the flight of butterflies, laughter, the right poem at the right time, awareness of one's breath, and the importance of connecting to self and other. There is also a recognition that there is a certain privilege in having the time, emotional space, and
safety to reflect on such things. There is acknowledgement that beauty and suffering are intertwined. Yet, each painting, photograph, drawing, and poem serves as an offering, gentle reminders that survival can be found in the small and that we have a radical right to joy.
This exhibition was co-created with Museum Studies students at the University of North Florida. Their desire was to recognize our individual and shared anxieties by providing space and permission to linger on the extraordinary healing that can be found in ordinary moments…the duality of our lived experiences. The hope is not to retreat, but instead to find respite, to recharge, and to continue to resist.
ARTISTS
Sarah Crooks • Doug Eng • Ali Fernandez • Crystal Floyd • Karen Kurycki • Andrew Kozlowski • Khalil Osborne • Tatiana Phoenix • Lorn Wheeler • Kirsten Williams • One Heart Jax Collective
ABOUT YELLOW HOUSE
Yellow House is a place where art + action creates change. The space serves as a catalyst for personal and collective growth by displaying thought-provoking exhibitions, hosting public events, and promoting community dialogue. Yellow House will explore topics as varied as racial and gender equity, universal human rights, environmental sustainability,
and the untold stories of people and neighborhoods that have shaped our history. Yellow House is more than a physical space; it is a hub for educational outreach and collaborations among artists, writers, organizations, and communities.
Related Events