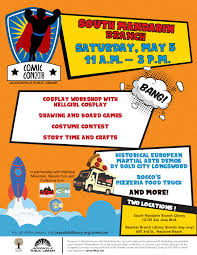 It's a bird, it's a plane… it's Comic Con!
Hosted by the Jacksonville Public Library Beaches Branch, Comic Con is a free community event about celebrating fandom with friends and family. The single-day festival will feature artists, vendors, gaming, contests, DJ music and children's activities. The event also features fandom elements from Doctor Who (a Tardis), Star Wars (Stormtroopers), Ghostbusters and many more!
Library spokesman, Chris Boivin, says "It's all about geek culture and maker culture," which he admits already have a lot of overlap.
"People will actually have a minute to go up on stage and act like their favorite character and tell why they love their character," Boivin said.
Don't miss out on the cosplay and drawing workshops. The Comic Con 2018 will conclude with a cosplay costume parade. A panel of fandom-lovers will judge costumes.
11:30 a.m. – A cosplay workshop with Hellgirl cosplay.
12:30 p.m. – Comic drawing and board games.
2:00 p.m. – Cosplay costume parade.
The top of each hour will feature story time and crafts. Bold City Longsword will be demonstrating Historical European Martial Arts moves. Rocco's Pizzeria Food Truck, and many more, will be located outside the library for snacks and lunch.
All ages are invited to the Comic Con 2018. The event is being held May 5, from 11:00 a.m. to 3:00 p.m. The Comic Con will be featured at two different locations, South Mandarin Branch Library and Beaches Branch Library.
Fasten your cape, grab your family and friends, and join the staff of Jacksonville Public Library for a day filled with all things Comic!