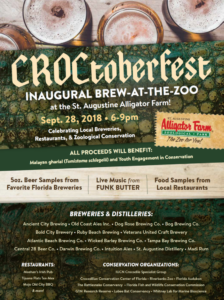 The St. Augustine Alligator Farm hosts its inaugural "Croctoberfest," on Friday evening, September 28, 6-9pm. This "brew-at-the-zoo" event brings beer, food, and spirits together for the season of Oktoberfest and Fall with a catchy name and some crafty inhabitants. 
The concept began over a year ago during a staff meeting, says Trevor Mia, of the Zoo Education Department, with "Croctoberfest" being a logical name for this time of year. "We wanted to host a social event where the proceeds go towards a great use and cause." Croctoberfest is a partnership with Riverbanks Zoo of Columbia, South Carolina, and the IUCN Crocodile Specialist Group to help support the Malayan Gharial conservation (if you don't know what that is, you can find out at Croctoberfest). Part of the proceeds are also designed to jump start youth engagement in conservation programs in St Augustine. Participating conservation organizations include: IUCN Crocodile Specialist Group, Riverbanks Zoo, Crocodilian Conservation Center of Florida, Florida Fish and Wildlife Conservation Commission, Florida Audubon Society, The Rattlesnake Conservancy, GTM Research Reserve, Lubee Bat Conservancy, and Whitney Lab for Marine Bioscience.
"At the end of the night, we hope that guests will have an appreciation for what their local conservation organizations are doing in their own backyard," Trevor adds. 
Croctoberfest will take place over three main sections of the Alligator Farm: Alligator Lagoon, Oasis of the Nile, and The Great Down Under; and, the entire Zoo will also be open for a unique night-time experience. The Zoo is also known for wildlife photo ops, and guests are welcome to visit the Native Swamp/Rookery area to snap sunset photos. Over 25 vendors, from breweries, restaurants, distilleries, to conservation organizations, will dot the center landscape, while attendees wander through the grounds to chat with the nature groups and beer/distillery reps. Because most of the Zoo creatures are "crepuscular" (active during sunrise/sunset hours), says Trevor, be on the lookout for nocturnal resident activities, such as communicating lemurs,  roosting birds in the rookery, and curious crocodilians. Near the end of the event, a Zoo staff member will conduct a feeding with the American Alligators in the Alligator Lagoon.  
All of this, and beer, too? Participating beverage vendors include: Bog Brewing, Ancient City Brewing, Old Coast Ales, Dog Rose Brewing, Bold City Brewery, Ruby Beach Brewing, Veterans United Craft Brewery, Atlantic Beach Brewing, Wicked Barley Brewing, Tampa Bay Brewing, Central 28 Beer, Darwin Brewing, Intuition Ale Works, St. Augustine Distillery, and Madi Rum. In addition, food will be provided by Meehan's Irish Pub, Mojo Old City BBQ, Tijuana Flats, and The Hyppo Gourmet Ice Pops. The ticket price includes a 5 oz. souvenir tasting glass, together with beverage and food samples. Local band Funk Butter, a funk jam band, will have the tunes going through the night. 
The Alligator Farm is located at 999 Anastasia Blvd., St. Augustine. Just look for the large replica alligator out in the front (another photo op, if you haven't been there yet). 
Tickets are available online HERE through Eventbrite.
If you like nature and conservation — and, beer — spend the night with the creatures (of all kinds) at the Alligator Farm on September 28! 
Cheers,
Linda Johnson, Certified Cicerone®
(graphics by St. Augustine Alligator Farm)
Linda Johnson is a BUZZ Contributing Writer (beer!) and founder of the beer and travel website, BrewNymph.com, covering all things Florida beer from news to events. She is the first female Level 2 Certified Cicerone® in the Jax area (since 2015), one of seven in the metro area, and the only Level 2-certified independent beer writer in the state.