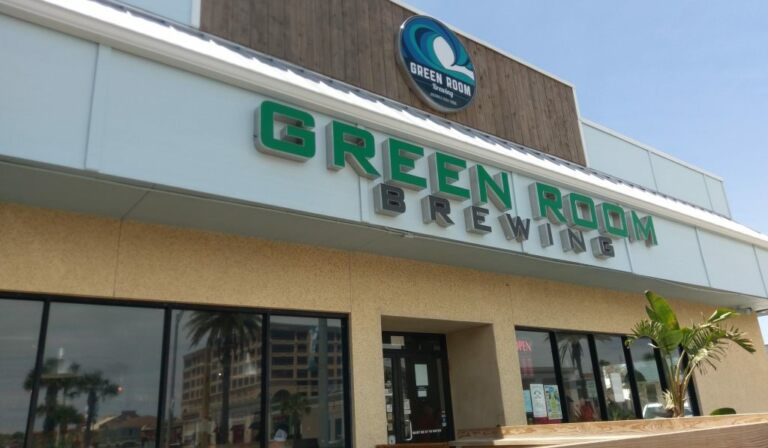 Jacksonville Beach's first microbrewery, Green Room Brewing, turns 7 in June! Over the years, several changes have taken place at the brewery on Third Street, including the addition of a new front deck, interior renovations and new restrooms, and, recently, new front signage (the latter thanks to Hurricane Matthew; see cover photo). The brewery with the beach-and-surf-inspired theme might best be known for co-owner Eric Luman's creative beers and popular bottle releases. Those who have attended a Green Room bottle release party can attest to the flavored variants on tap in the back brewery bar, and, yes, there's usually a coffee version! The Seventh Anniversary bash happens on Saturday, June 16 beginning at noon, with the annual bottle release of the Secret Spot Imperial Stout Anniversary Ale.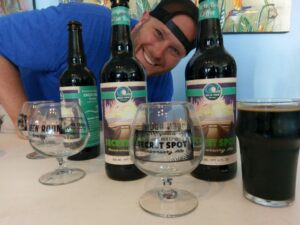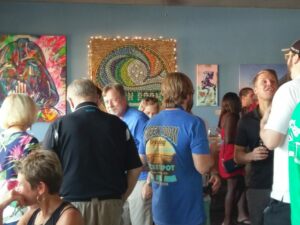 Haven't been to Green Room Brewing? Walk in the front door, and you'll immediately sense the laid-back, chill, surfing vibe. The brewery takes its name from the barrel of the wave that surfers prize. And that "Secret Spot" name? According to Eric Luman, the name for the annual beer is a reference to one of the most popular local surfing spots, The Poles (not so secret any more).
The Secret Spot anniversary beer isn't Green Room's only annual release. Each December since 2012, the brewery holds another party for the release of its Quetzalcoatl Imperial Mayan Red Ale, made with cassava root, poblano and serrano peppers and chocolate. Taking things one step further, the first Saturday in May brings "The Return of Quetzalcoatl," with a tequila barrel-aged version of the beer.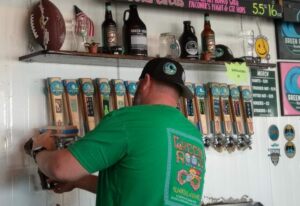 Cheers to Green Room Brewing and seven years of beer! Be sure to join the party on June 16 …
And, hey, if you're looking for even more background about Green Room Brewing, take a look at a few of the articles on brewnymph.com!
Cheers,
Linda Johnson, Certified Cicerone®
(All photos by Linda Johnson)
Linda Johnson is a BUZZ Contributing Writer (beer!) and founder of the beer and travel website, BrewNymph.com, covering all things Florida beer from news to events. She is the first female Level 2 Certified Cicerone® in the Jax area (since 2015), one of seven in the metro area, and the only Level 2-certified independent beer writer in the state.