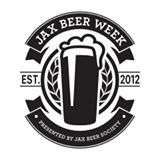 Hey, Jacksonville! Jax Beer Week arrives on the Jacksonville Beer Scene, starting November 3 at the beer garden at Jacksonville PorchFest.  The annual PorchFest music fest, which runs from noon til 9pm, once again provides tunes throughout the city's Springfield neighborhood, with musical acts singing and strumming on front porches and on the Main Stage at Klutho Park. Attendees at the free music fest can stroll along the tree-lined streets and stop at designated houses to listen and dance the afternoon away. 
A selection of craft beer will be available at the beer garden in the park. Platinum PorchFest Sponsors  include local breweries Intuition Ale Works, Aardwolf Brewing Company and Veterans United Craft Brewery. Yes, you can even take that beer with you as you make your way around the neighborhood!  Be sure to stop at the Jax Beer Society tent in the beer garden to sample beers from two of the area's newest breweries, SJ Brewing (12-3pm) and Tabula Rasa Brewing (3-6pm).  SJ Brewing opened in August on State Road 200 in Yulee, and Tabula Rasa, in the city's "Railyard District," opened its doors in September.
In additon to PorchFest, several local breweries are taking part in Jax Beer Week on Saturday: Atlantic Beach Brewing will tap a new beer each day during the week, starting on Saturday; Southern Swells Brewing holds a double can and glassware release; and Springfield brewery Main & Six Brewing releases its Porch Juice Session IPA in Crowlers-to-go for the first time.  
Below are a few highlights of happenings during the week. Take a look at the brewnymph.com Tap This calendar page for more info and as new events are added. 
Sunday: V Pizza, Mandarin, hosts V for Victory Homebrew Competition and Tasting, 1-3pm. The event benefits V for Victory, an organization providing support to families affected by cancer. Along with a judged homebrew competition and tastings, various local breweries will also be on site for samplings, including Dog Rose Brewing, Fishweir Brewing, Legacy Ale Works, Tabula Rasa Brewing, Hyperion Brewing, and Bog Brewing.
Also on Sunday: Aardwolf Brewing releases new versions of its White Russian Imperial Stout; Alewife hosts a beer dinner with Blackberry Farm beers and food by Bread and Board. SJ Brewing holds a chili cook-off.
Beginning on Monday, Southern Swells taps special beers each day through the week.
Tuesday events include Off-Flavor Training at Alewife, with a Cicerone®-style discussion (yes, I've been through the official Cicerone® course, and that's not glamorous); Election Day parties at Intuition Ale Works and Brewz Atlantic Beach; and Bingo with the Brewers at Southern Swells Brewing, along with a Battle of the Beers v Aardwolf.
Alewife holds a Cellar Beer Tasting on Wednesday.
Thursday finds new brewery Reve Brewing releasing the first of three new can releases, with additional releases on Friday and Saturday. Hyperion Brewing hosts cupcake and beer pairings. Alewife offers a cider and mead with cheese pairings event.
Friday: Keg & Coin holds a special Duval's Finest event, with drafts from Aardwolf Brewing, Intuition Ale Works, and a new release by Engine 15 Brewing. Also on Friday, Jacksonville Zoo holds its annual Brew at the Zoo beer and food event under the lights and stars. The fest sold out very quickly in September (what's that about "I told you so?"), but take a look at last year's event.
Jax Beer Week comes to a close on Saturday, November 10, with another major event, the Florida Brewers Guild 4th Annual Barrel-Aged, Sour & Cider Fest at Intuiton Ale Works. The fest (see last year's recap) features over 30 Florida breweries serving unique beers. As of this writing, tickets are available. Also on Saturday, Main and Six Brewing celebrates its one-year anniversary with special tappings and a bottle release of its WMD Stout, along with two variants. Check out last year's pre-opening and opening day articles on brewnymph.com.
But wait, there's more!
Festival D'Vine to benefit Catholic Charities Jax, Friday night, at Treaty Oak Park.
Also, on Saturday, November 3: Bog Brewing, St. Augustine, releases its "Light in the Dark" Belgian Tripel, aged in St. Augustine Distillery bourbon barrels, for the second year. And, the Right Whale Festival takes place at Seawalk Pavilion in Jax Beach.
Cheers, and Happy Jax Beer Week!
Linda Johnson, Certified Cicerone®
Linda Johnson is a BUZZ Contributing Writer (beer!) and founder of the beer and travel website, BrewNymph.com, covering all things Florida beer from news to events. She is the first female Level 2 Certified Cicerone® in the Jax area (since 2015), one of seven in the metro area, and the only Level 2-certified independent beer writer in the state.