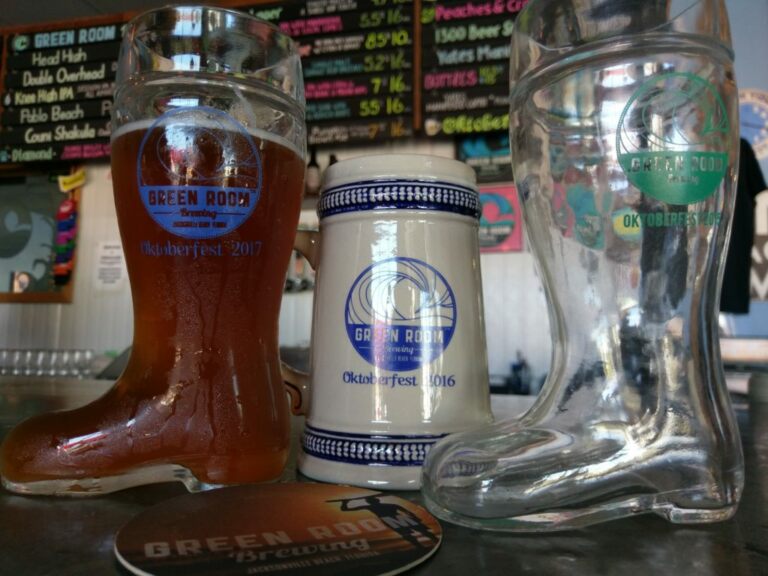 Oktoberfest officially began on Saturday, September 22, when the Mayor in Munich, Germany tapped the first keg. The two-week celebration of malty beers, dirndls and lederhosen continues through the weekend, with more events planned into next week.  Here are highlights of what's happening around the Jax area craft beer scene on Saturday, October 6:
Bogtoberfest continues through the weekend at Bog Brewing, St. Augustine: Purchase your "Bogtoberfest" stein for a free fill of beer, and bring it back for discounts. After that, be on the lookout for "unofficial" mug-club type events. The brewery tapped an Oktoberfest Marzen that'll make you sing for more!
Two weeks of Oktoberfest enters its second weekend at all European Street Cafe locations. Wear your German attire on Saturday, and get a wooden nickel worth $5 off your check. Stein hoisting competitions take place Saturday at the San Marco location at 3pm; and at the University location at 5pm.
Engine 15 Brewing, Jax Beach, holds its annual Oktoberfest party, with oompah music, fest games, pretzels, and Oktoberfest beer. Refillable steins get you a discount on fills all month long on Oktoberfest, J'Ville Lager, and 904 Weiss Guy beers.
The tapping of the Oktoberfest beer happens at Green Room Brewing, Jax Beach, Saturday. Wear Oktoberfest gear for 20% off drafts all day. Also on tap will be the Jax-O-Lantern pumpkin brown ale, and several one-off treatments.
Congaree & Penn Farms presents Oktoberfest to benefit the Jaguars Foundation. Beers include Hofbrau and local breweries Intuition Ale Works, Aardwolf Brewing, and Veterans United Craft Brewery. The event features live music by Junco Royals and Wetlands Strings Band, along with German food. Tickets are $60 (adult), $30 (child 4-12). A VIP package includes the Bauernhof Beer Dinner on Friday, October 5. See http://www.congareeandpenn.com/oktoberfest for tickets.
Oktoberfest on Main Street, Springfield, the business of Main Street host Oktoberfest with a beer tent by Engine 15 Brewing, traditional Oktoberfest games and activities hosted by Crispy's. New Oktoberfest beer at Main & Six Brewing. Brewery-in-planning Strings Sports Brewery will sample beer and food.
In addition to Oktoberfest, more local events include:
Pumpkin Festival and Fall Market at Wicked Barley Brewing, with fall beer releases, pumpkin beers, music in the beer garden, kids' crafts with Fun 4 First Coast Kids, starting at 11am. The brewery also holds a new can release: Nightmare on Evergreen Terrace, a Belgian Pumpkin Quad, made with pumpkin puree and spices.
Southern Swells Brewing, Jax Beach, releases Raspberry Manilow, a fruited sour; Expert Marksman, a New England IPA; and Karate in the Garage, its New England IPA; in cans on Saturday.
Five Points Pride Block Party takes over the street starting at noon, for the 40th Annual parade and block party, presented by the Five Points Merchants Association. The official beer sponsor is Aardwolf Brewing. The event features all-day music, food and local vendors.
Happy Oktoberfest!
The above events and more are listed on the local calendar on http://www.brewnymph.com. Be sure to take a look at the calendar for more events next week!
(cover photo: Green Room Brewing Oktoberfest 2017; photo by Linda Johnson)
Cheers,
Linda Johnson, Certified Cicerone®
Linda Johnson is a BUZZ Contributing Writer (beer!) and founder of the beer and travel website, BrewNymph.com, covering all things Florida beer from news to events. She is the first female Level 2 Certified Cicerone® in the Jax area (since 2015), one of seven in the metro area, and the only Level 2-certified independent beer writer in the state.