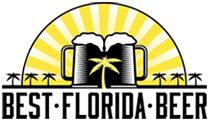 Local Jacksonville-area breweries notched medals at the annual Best Florida Beer professional championships, as announced Sunday, March 4, during the Brewer's Ball beerfest at Water Works Park in Tampa. The beerfest takes place every year on the first Sunday in March, as part of the annual Tampa Bay Beer Week events.
From 815 entries, judges narrowed the field to the top three in each of 38 medal categories. Judging occurred over the weekend of February 10-11 in St. Petersburg. Although the finalists were notified, specific placements of Gold, Silver or Bronze medals were not known until names were read during the official ceremony on Sunday afternoon. The Brewer's Ball featured only the medal-winning beers for sampling, with signs identifying the brewery, beer and category above each keg during the beerfest. Category announcements of Gold, Silver and Bronze medals were announced first, followed by announcements of the Best of Show awards capping off a spectacular day in the park. The beerfest set-up was attendee-friendly, with several large tents providing shade for the beer  … and the guests, with plenty of elbow room and space around the tents and throughout the park.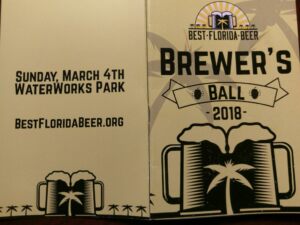 By category and brewery, local Jax area brewery medalists are:
American Amber/Red/Brown Ale (American Style Brown): Gold: Main & Six Brewing, Jax: Handsworth Brown Ale
Traditional Mixed Culture Sour Ale (Fruited American-Style Sour Ale): Gold: Wicked Barley Brewing, Jax: The Passionate Mango (Small Batch)
Best of Show Runner Up Small Batch: The Passionate Mango (Sour), Wicked Barley Brewing, Jacksonville
German Ale (German Style Altbier): Gold: Veterans United Craft Brewery, Jax: Scout Dog 44
Smoked Beer (Smoke Porter): Gold: Amelia Island Brewing, Sm'kn M'rtha
Mead: Silver: Wicked Barley Brewing, Jax: Brazilian Mead
Golden Ale/Blonde Ale: Silver: Veterans United Craft Brewery, Jax: Raging Blonde
Saison (French and Belgian Style Saison): Silver: Veterans United Craft Brewery, Jax: Farmers Little Helper
English Ale (English Style Brown Ale): Silver: Ancient City Brewing, St. Augustine: Drink it Down Brown – Pecan Nut Brown Ale
Porter (Robust Porter): Silver: Ancient City Brewing, St. Augustine: Castillo Coconut Porter
New England IPA: Bronze: Southern Swells Brewing, Jax Beach: Imperial Karate in the Garage
Wood Barrel/Fruited Mixed Culture Sour Ale (Wood/Barrel Aged Sour Beer): Bronze: Aardwolf Brewing, Jax: Animals and Passions
The title of overall Best Beer in Florida went to Big Blue Brewing, Cape Coral, for its Lightest Thing Ya Got Cream Ale.
The official list of all of the category medalists and the Best of Show winners can be found here.
Congratulations to all of the Best Florida Beer winners for 2018!
Cheers!
Linda Johnson, Certified Cicerone®
(adapted from original article on http://www.brewnymph.com with fest photos taken on-site by this writer)
Linda Johnson is a BUZZ Contributing Writer (beer!) and founder of the beer and travel website, BrewNymph.com, covering all things Florida beer from news to events. She is the first female Level 2 Certified Cicerone® in the Jax area, one of seven in the metro area, and the only Level 2-certified independent beer writer in the state.