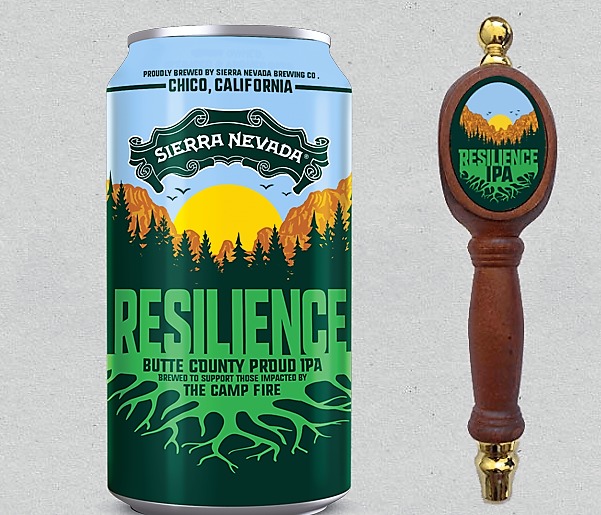 In response to the recent California wildfires, brewery Sierra Nevada Brewing, located in Chico, California, established the Camp Fire Relief Fund, with $100,000 to start efforts to assist those affected. The brewery also set out to brew a beer and donate all of the proceeds to the cause. In addition, it asked every brewery across the nation to participate by brewing the special beer and donating the proceeds back to the fund. With malt and hops suppliers agreeing to donate the raw materials, "Resilience Butte County Proud IPA" was born. Over 1400 breweries pledged to brew the beer, with a recipe provided by Sierra Nevada. With brewing having started in November, the beer will hit taps throughout the country in December and January. Sierra Nevada will distribute the special beer in cans.
Over 60 Florida breweries are participating in the nationwide brew, including a number in North Florida.
When asked why Bold City Brewery decided to join the effort, Co-Owner Brian Miller simply stated, "the question is, why wouldn't we?" He added that "the decision to get involved was easy" and that with peoples' lives destroyed, although Bold City Brewery's part is minimal, "anything will help," and they are happy to be a part of it. Bold City's brewers will brew the beer in January, and it will be available on tap late January to early February.
"We were instantly on board," said Linda Horn, Co-Owner of Atlantic Beach Brewing Company. "With the enormity of the devastation, we felt helpless while watching the news coverage." Atlantic Beach Brewing brewed ten barrels of the beer during Thanksgiving week, with an anticipated release of December 18. "It's one small way we can contribute to the rebuilding of people's lives, homes, schools and businesses," Linda commented. The brewery is "proud to be a part of such a great industry that gives back and helps one another regardless of business size or geography."
According to Southern Swells Brewing Co-Founder Corey Adams, the brewery "got involved because it is a unique opportunity to make an impact by simply doing what we love, brewing." He added that being able to make a donation to the cause "through simply brewing Resilience is the least we could do." Southern Swells brewed the beer on November 28 "with just a little more dry hopping," and it will be available on December 20. With that level of devastation being unfathomable, he added, "Sierra Nevada's idea to not only brew Resilience but to invite other breweries to do the same was amazing, and we are fortunate to have the opportunity to join the other breweries participating." 
Over on the Panhandle, Founder Gabe Grass of GrassLands Brewing, Tallahassee, saw the initiative as an extension of the brewery's "Craft. Community. Conservation." mission. With its assistance efforts following Hurricane Michael, GrassLands Brewing "was just as happy and as honored" to participate in the Sierra Nevada project. "We value engagement with the community, and in this sense, it's the community at large."  He added that the "camaraderie and selflessness of breweries like Sierra Nevada and the others is what fuels us on a day to day basis."  The beer will be available in the Tallahassee tap room in December. "Craft beer is universally popular, but the industry also represents a complex and intimate relationship with the community," he added. "This type of initiative is a great example of why I got into the brewing industry to begin with."
One of the first North Florida breweries to tap Resilience IPA is First Magnitude Brewing, Gainesville, with a tap room release on December 10. Co-Owner John Denny expressed not only his respect for Sierra Nevada Brewing and being "impressed with the scale of the effort," but "how quickly they pulled it together." Confirming the mindset of craft breweries to pitch in, he added, "it highlights how many craft breweries are community-minded and willing to help with charitable causes." First Magnitude's President Christine Denny worked in environmental science for 17 years, with one of her specialties being fire ecology. Having taught about the natural role of fire in Florida ecosystems and ways to protect homes from fire, the brewery wanted to help those affected, "even in a small way."
When it's all said and done, over 17,000 barrels (4.2 million pints) of Resilience Butte County Proud IPA (6.8 ABV) will make its debut throughout the country beginning in December, with all funds received from the sales of the beer being donated to the Camp Fire Relief Fund.
In addition to the breweries mentioned above, other North Florida breweries also participating in the project include Ology Brewing, Tallahassee; Blackadder Brewing, Gainesville; Fool's Fire Brewing, Tallahassee; and Eastpoint Beer Company, Eastpoint.
Give the beer a try, and help out the cause!
Cheers,
Linda Johnson, Certified Cicerone®
Linda Johnson is a BUZZ Contributing Writer (beer!) and founder of the beer and travel website, BrewNymph.com, covering all things Florida beer from news to events. She is the first female Level 2 Certified Cicerone® in the Jax area (since 2015), one of seven in the metro area, and the only Level 2-certified independent beer writer in the state.