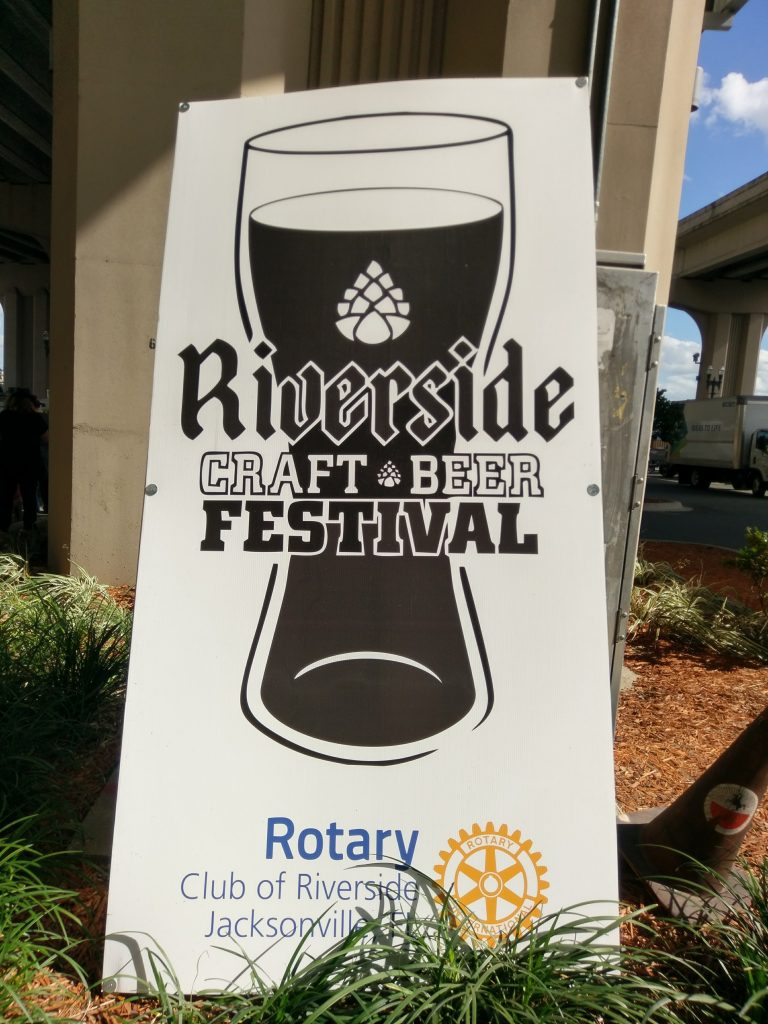 The 5th Annual Riverside Craft Beer Festival, presented by Rotary Club of Riverside (Jacksonville), returns to the Riverside Arts Market under the Fuller-Warren Bridge on February 24.
According to Chris Croft, 2018 Fest Chairman, planning for this year's event began within two weeks of last year's festival. 100% of the proceeds from the fest benefits Community Peds Care® and the Riverside Rotary Foundation. Although the Foundation distributes funds to many different charities and projects, explained Croft in an interview, the Rotary Club has always focused on helping children, making Community Peds Care an ideal partnership. Last year, over $100,000 was raised by the Fest toward the Rotary's charitable efforts, with over $300,000 to date. Community Peds Care has used the funds for multiple purposes, including hiring new caregivers. Riverside Rotary disburses monies raised from the fest to a number of causes and organizations, including purchasing dictionaries for local schools, funding of Riverside Rotary's Scholarship at UNF for First Generation College Students, playground equipment at local parks, dinners for local military families through the USO, funding for a clean water project in Haiti, and continued donations to Rotary International's End Polio Now Initiative, among others. Festival attendees can be guaranteed that their festival admission fees support worthwhile charitable projects. Nothing better than drinking beer for great causes!
Look for between 70-80 breweries pouring at least 2-3 different beers, with some sending special kegs for the VIP early entry, said Croft. In a new arrangement this year, participating breweries will be setup around the venue by six geographic regions: Florida, Southeast, Northeast, Midwest, West Coast, and International, rather than by distributor. In addition, several breweries-in-planning and breweries who currently only serve their beers in-house will also be represented. One of these is Legacy Ale Works, a new brewery headed to the Mandarin area of Jacksonville, which announced on its website that it will be serving a German Schwarzbier and a Belgian Tripel at the fest.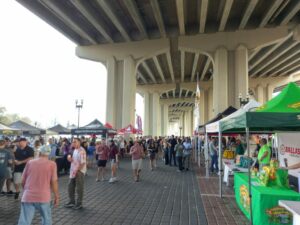 The Riverside Arts Market is a spacious venue under the bridge that offers plenty of space to walk around with beer in hand. No need to worry about munchies, either, as 11 food trucks will be on site. Beers won't be the only thing tapping, as your feet will be tapping along to the sounds of popular band Grandpa's Cough Medicine on the main stage on the riverfront from 3-7pm.
Attendees will notice a change at the fest entry gate this year, with the addition of cloth wristbands, added Croft, which should make entering the event faster. The souvenir beerfest sample cups have not changed. While general admission starts at 4pm, VIP ticketholders are allowed early entry at 3pm. General admission Early Bird tickets are $40 through February 23, with on-site tickets available for $50. Cost of the VIP ticket is $60, sold exclusively online, as the VIP option sells out each year, said Croft. Advance ticket purchase, via http://www.riversidecraftbeerfestival, is encouraged.
Croft, who has been a Fest Co-chair each year, took on the duties of Chairman for 2018, and finds the continued success of Riverside Craft Beer Fest "humbling." Organizers believe that "the participation of all of Jacksonville's distributors helps make this event so special." Attendance has grown each year, drawing beer enthusiasts from all over Florida and across the country.
Cheers,
Linda Johnson, Certified Cicerone®
Covering Florida's beer scene, and locally around the greater Jacksonville metro area
(adapted from http://www.brewnymph.com)
(photos by Linda Johnson)
Linda Johnson is a BUZZ Contributing Writer (beer!) and founder of the beer and travel website, BrewNymph.com, covering all things Florida beer from news to events. She is the first female Level 2 Certified Cicerone® in the Jax area, one of seven in the metro area, and the only Level 2-certified independent beer writer in the state.