Hey, Jacksonville! It's not quite officially Summer yet, but it sure is beginning to feel like it! What better time to sip some suds from your local craft breweries and beer bars?  From Wednesday to the Weekend, make sure your plans for the weekend include some fun events where you can put a beer in your hand. Check out these highlights!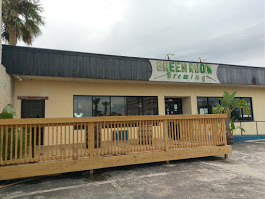 Saturday: Green Room Brewing, Jax Beach, celebrates its 7th Anniversary with the annual bottle release of Secret Spot Anniversary Ale (Imperial Stout). Of course, there will be a big bash and a bunch of tasty variants of the Secret Spot on draft. Congrats to Green Room. (Cover photo from this year.)
Wednesday Highlights:
Pint Night at Engine 15 Brewing, Jax Beach; Bison & Beer Pairings with Wicked Barley Brewing at Ted's Montana Grill, Midtown (ticketed event); Welcome to Springfield Networking Event at Hyperion Brewing;
Thursday Highlights:
Vertical Underdark Tasting (Inuition Ale Works) at Mellow Mushroom (St. Johns); Teachers on Tap Jacksonville at Wicked Barley Brewing; Tap Spotlight with Walking Tree Brewery (Vero Beach) at Beer:30 San Marco; Tap Takeovers with Bowigens Brewing at both Tap Garden locations (V Pizza in Mandarin and Fleming Island);
Friday Highlights:
Bike Night at Veterans United Craft Brewery; Free Move Night at Intuition Ale Works;
Saturday Highlights:
Green Room Brewing 7th Anniversary and Bottle Release (yes, mentioned it twice); 80's Beer Run at Veterans United Craft Brewery; SUP Yoga Workshop at Wicked Barley Brewing with Florida Yoga & Paddle and Yoga Den; Coastal Wine Market Nocatee Two-Year Anniversary Tastings;
Happy Father's Day, Sunday, June 17, to all the Dads!
Be sure to take a look at all of the daily local events (including the above for more info) on http://www.brewnymph.com, too, because there are Ladies Nights, Trivia and more!
Cheers,
Linda Johnson, Certified Cicerone®
(Cover Photo: Linda Johnson)
Linda Johnson is a BUZZ Contributing Writer (beer!) and founder of the beer and travel website, BrewNymph.com, covering all things Florida beer from news to events. She is the first female Level 2 Certified Cicerone® in the Jax area (since 2015), one of seven in the metro area, and the only Level 2-certified independent beer writer in the state.