The Jacksonville Jaguars and Delaware North Sportservice, the official EverBank Field food and beverage provider, have announced that teal beer and teal food will be on the menu at this Sunday's AFC Wild Card Playoff game between the Jaguars and the Buffalo Bills.
In a written statement issued to this writer, Donald Versace, Delaware North General Manager at EverBank Field said: "Jaguars fans are the best in the country. We wanted to bring something different to Jacksonville, something they've never seen before, to celebrate the team and the team's colors. It's a fun way to share in the excitement and thank them for the season!"
Indeed! It's been 18 years since the Jaguars hosted a playoff game — a game this writer attended on January 23, 2000. With a number of seasons with no playoff hopes, steadfast fans have remained supportive of the team. To say that the city of Jacksonville and the fans are excited, is an understatement, to be sure. Tickets are available on the secondary market.
The teal beer is supplied by Anheuser-Busch and will be sold throughout the stadium on Sunday while supplies last. In addition, colorful teal food options will also add to the flavor of the game.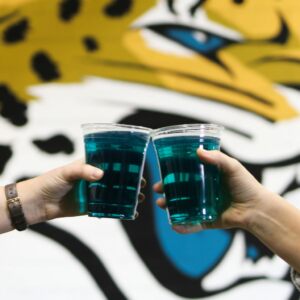 Yes, these are what could be called "buns of teal!"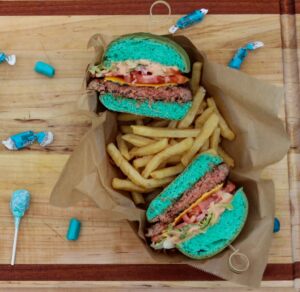 A teal dessert also comes with a mini-helmet or in a regular cup.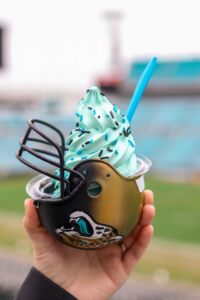 Delaware North is one of the largest privately-held hospitality and food service companies in the world, founded in 1915 and owned by the Jacobs family for over 100 years. The company's foodservice operations include sports and entertainment venues, national and state parks, resorts, airports and regional casinos. It has 55,000 employees and serves over 500 million guests annually.
Cheers, and Go Jaguars!
Linda Johnson, Certified Cicerone®
(adapted from http://www.brewnymph.com)
Linda Johnson is a BUZZ Contributing Writer (beer!) and founder of the beer and travel website, BrewNymph.com, covering all things Florida beer from news to events. She is the first female Level 2 Certified Cicerone® in the Jax area, one of seven in the metro area, and the only Level 2-certified independent beer writer in the state.